MLB Odds, Playoff Picks for ALDS Game 1 Mariners vs Astros
Mariners vs. Astros Game 1 Odds
The Seattle Mariners' thrilling Game 2 comeback win over the Toronto Blue Jays in the AL Wild Card Round gave them a postseason series win in their first appearance in 21 years.

Their reward is a date with the division rival Houston Astros, who posted the best record in the American League and went 12-7 against them this season. First up is a date with likely AL Cy Young winner Justin Verlander, while Seattle will counter with the young Logan Gilbert.
Our analysts have three bets on this game including a total, player prop, and first five moneyline. These are our best bets from ALDS Game 1 between the Mariners and Astros.
MLB Odds & Picks
Under 6.5 (+100)
Mike Ianniello: Justin Verlander has miraculously turned back the hands of time at 39-years-old and is almost certainly going to win his third Cy Young award this season. He was a ridiculous 18-4 with a 1.75 ERA. Opponents hit just .186 against him in the best season of his career.
Six of those starts came against the Seattle Mariners where he went 5-1 with a 2.34 ERA. Verlander allowed just 11 runs in 42 1/3 innings while striking out 43 Mariners this year. He pitched into the seventh inning in five of the games and allowed just one run in each of the last three outings against them.
On the other end of the age spectrum, 25-year-old Logan Gilbert went 13-6 with a 3.20 ERA in his second big league season. He was even better on the road this year and had a lot of success against Houston. He faced the Astros four times, the most of any opponent, and had a 2.52 ERA against them, allowing just seven runs over 25 innings.
While both of these teams have formidable lineups — especially Houston — the Astros were the most profitable team in the league to the under by far. The under went 94-60-8 in Astros games this year, a 61% rate.
The under went 20-7 in Verlander's starts, a 74.1% win rate. The under also went 18-13-1 in Gilbert's starts this year and was 3-1 in Gilbert's four starts against the Astros.
---
» Return to the table of contents «
---
Logan Gilbert Over 3.5 Strikeouts (-125)
Tanner McGrath: I'm not high on Logan Gilbert for this postseason run. Here at the Action Network, we affectionately refer to him as "Luckbox Logan," given his propensity for getting out of jams (77.6% strand rate) and overperforming his peripherals (3.20 ERA, 4.11 xERA).
Moreover, I'm really high on Houston's lineup. The Astros finished the season with a top-five ISO (.176) and a bottom-five strikeout rate (19.5%). That combination of plate discipline and power is hard to come by.
But this line is just too low.
Just because Gilbert is lucky doesn't mean he's incapable. He has a career 24% strikeout rate and four pitches with a whiff rate above 24%. He's struck out at least four batters in 82% of his career starts (46 of 56), which should imply -460 odds to the over.
Moreover, Gilbert steps up against the Astros. He has struck out at least four Astros in six of seven career starts against Houston. He posted a 2.52 ERA against Houston in four starts this season.
Logan Gilbert vs HOU in 2022: 4 starts, 2.52 ERA, 22 K, 8 BB, 1.080 WHIP

1st start: 7 IP, 4 hits, 5 K – 6-0 win in SEA
2nd: 6 IP, 3 ER, 7 hits, 3 K, 3 BB – 6-3 win at HOU
3rd: 6 IP, 2 ER, 5 hits, 8 K, 1 BB – 3-1 loss in SEA
4th: 6 IP, 2 ER, 5 hits, 6 K, 2 BB – 4-2 loss at HOU

— Brandon Gustafson (@TheBGustafson) October 9, 2022
Our Action Labs Player Props Tool Tool projects Gilbert for 5.6 strikeouts tonight, giving us a 25% edge over the line posted at DraftKings and making this our top-rated play of the day.
---
» Return to the table of contents «
---
Astros First Five ML -200
Sean Zerillo: The Astros won 12 of the 19 meetings between these AL West rivals in 2022, outscoring the Mariners by eight runs in those contests.
Justin Verlander (2.66 xERA, 3.23 xFIP, 3.09 SIERA) started six of those games and dominated most of those matchups; recording a quality start in five outings (42 1/3 IP, 2.34 ERA, 33 H, 6 BB, 43 K).
While current Mariners' hitters own a .712 OPS against Verlander, Carlos Santana (19-for-84, 9 HR, .927 OPS) did most of that damage when the pair faced off earlier in their careers in the AL Central.
Logan Gilbert (4.11 xERA, 3.78 xFIP, 3.84 SIERA) made four starts against Houston this season and pitched well (25 IP, 2.52 ERA, 21 H, 6 BB, 22 K). Current Astros hitters own a .750 OPS against him in 133 plate appearances.
Gilbert owns reverse splits (3.44 xFIP vs. lefties, 4.08 vs. righties in 2022) and will face an Astros lineup that features seven right-handed bats in addition to lefties Yordan Alvarez and Kyle Tucker; both of whom rate above-average against left-handed pitching. Alvarez has neutral splits for his career.
Houston's offense fared better against lefties (124 wRC+, 2nd) than righties (107, 9th) this season and surged after adding Trey Mancini and Christian Vazquez to their offense at the deadline (146 wRC+ vs. lefties, 100 vs. righties).
Conversely, Seattle's offense fares slightly better against lefties.
The Astros (66 Defensive Runs Saved, 5th) also rate as the better defensive team. The Mariners (+36, 9th) have gotten a massive lift from Cal Raleigh (+14) behind the plate; and they'll need him to steal borderline strikes against a Houston offense that received fewer pitches in the strike zone (40%) than any other team this season.
Gilbert and Verlander overachieved relative to their underlying metrics this season, and it's difficult to say either is more overdue for negative regression.
I need to point out Verlander's uncanny ability to strand baserunners, which has stayed well-above league average since 2016: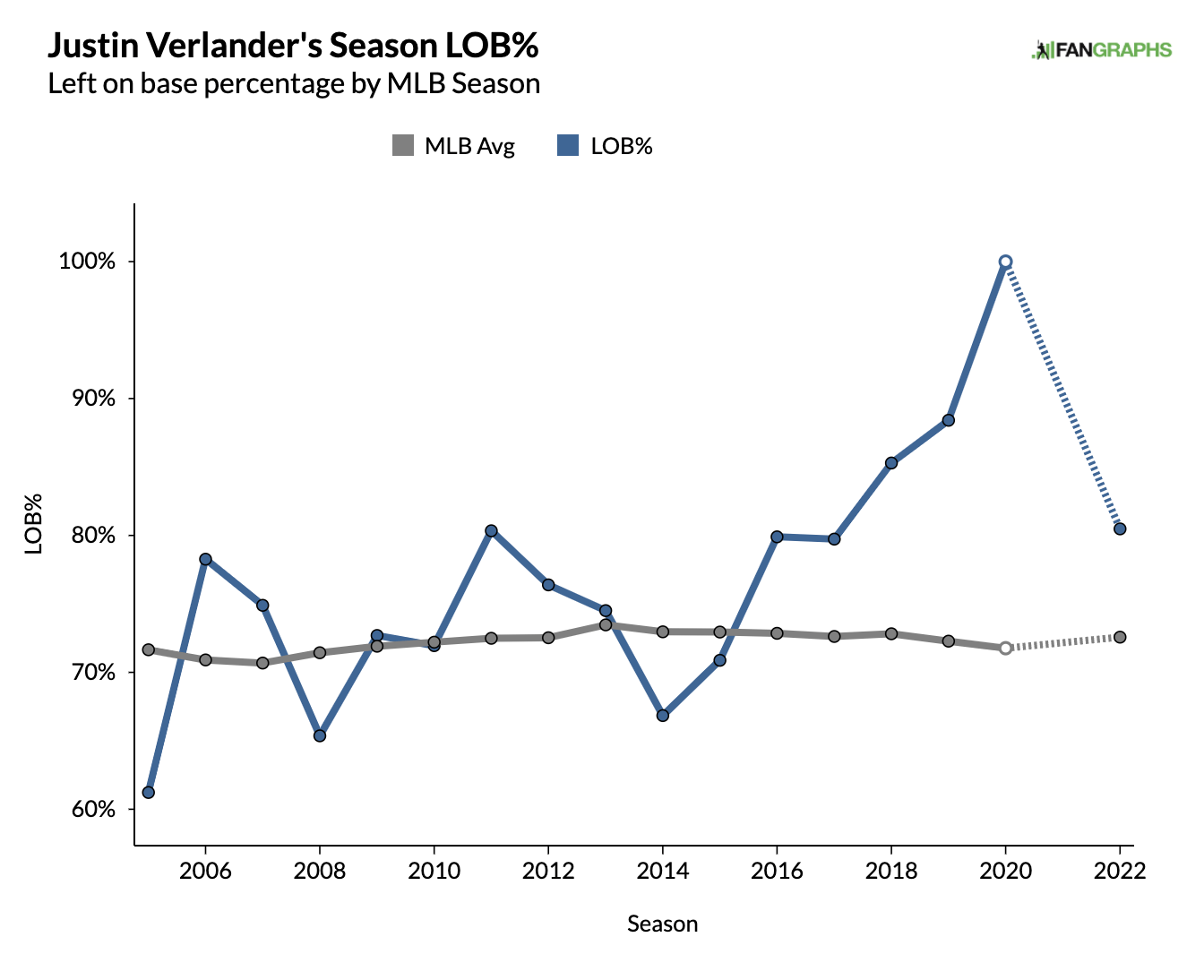 Great pitchers excel at stranding baserunners and stifling rallies. Verlander (82.5%) ranks third in that category since 2016, behind only Cristian Javier (83.5%) and Josh Hader (82.9%) and ahead of Max Scherzer (81.4%), Raisel Iglesias (81.2%), Clayton Kershaw (80.7%), Alek Manoah (80.3%) and Jacob deGrom (80%). That's quite a list of arms — and a good time to point out that Javier is one of my favorite sleeper Cy Young candidates for 2023.
Seattle has an excellent bullpen, and I don't necessarily see an advantage for either team in the late innings (3.18 v. 3.23 Model Weighted ERA). The full game moneyline aligns with my projections, and I would need +208 (34.5% implied) to bet Seattle at a two percent edge compared to my number.
However, I see an advantage for Houston in the first half, and I would bet Verlander's F5 moneyline up to -213 (68% implied) at a two percent edge compared to my F5 projection (70%).
I don't project actionable value relative to the totals in either half of Tuesday's matchup.
---
» Return to the table of contents «
---
How would you rate this article?