How to Take Advantage of the Public's Recency Bias in Thursday CBB Betting
Credit:
Brad Penner-USA TODAY Sports
Notre Dame (10 seed) held off Pitt (15 seed) 67-64 on Tuesday. The first-round matchup in the ACC Tournament was closer than the oddsmakers (and public) expected. The Irish opened as 16.5-point favorites and with 68% of spread dollars backing Notre Dame the line moved to -17.5.
Notre Dame found a way to win led by a senior Bonzie Colson (pictured above), who scored a game-high 19 points, yet the Irish failed to cover, burning casual bettors in the fourth-most bet game on Tuesday night. As you might expect, the public didn't forget this transgression. Though the Irish were just a small 2.5-point favorite, the bets were about even evenly split in Wednesday night's game against Virginia Tech.
It took a 50-point second half for the Irish to escape with a 71-65 victory, but this time, they covered the spread. Most squares didn't cash a ticket. Why? Recreational gamblers have a tendency to let recency bias cloud their judgement.
If the public is going to lay off a team that won but failed to cover against the spread, then as contrarian bettors we should do the opposite. Here's how you can take advantage on Thursday, using a  profitable system that applies to four conference tournament games (12 pm, 1 pm, 7 pm and 9:30 pm ET tips).
Since 2005, betting a team off a win but an ATS loss in postseason play is a ho hum 496-482-25 (50.7%) ATS. A less dedicated man might stop here but I'm no quitter. By adding two more filters, we can find a winning betting system.
To begin, let's ignore the top two seeds in a tournament as they are typically overvalued. Then for additional contrarian value, let's bet against an opponent that has covered its past one or two games, as these teams are likely to attract public action.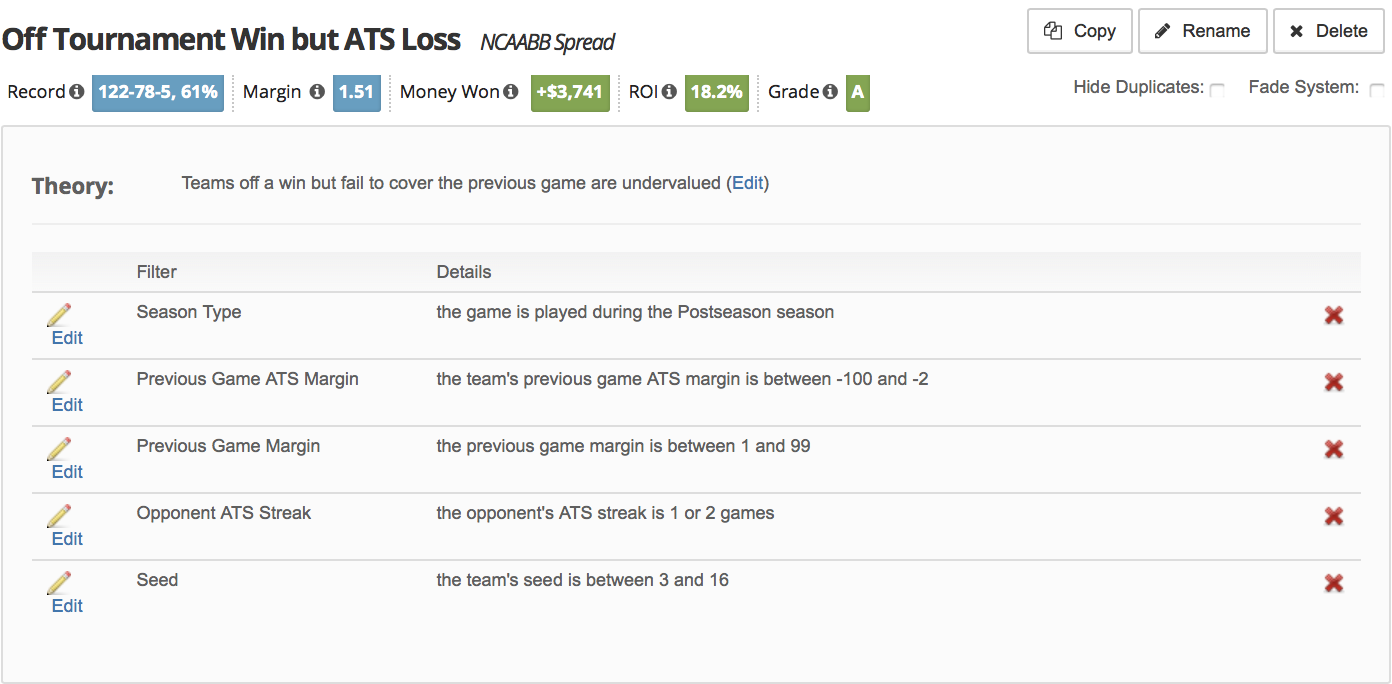 Following this system, bettors would have gone 122-78-5 (61%) ATS since 2005. A sample of more 200 games is impressive for postseason play and a $100 bettor would have returned a profit of $3,741 placing these wagers.
On average this system generates 15 plays a year come March. Here are four games for today that match this situational betting trend. Try Bet Labs for a month, get game matches for this system and test your own betting theories.
Central Michigan (+8.5) vs. Buffalo (12 p.m. ET): Central Michigan (-7) defeated Bowling 81-77 in overtime in the first round of the Mid-American Conference Tournament Monday. In early betting action — check our odds page for updating betting information — 57% of the tickets and 61% of the money are on the Chippewas as 8.5-point underdogs against Buffalo, but  those numbers very well could swing in Buffalo's favor as more recreational players get involved.
Texas A&M (-1.5) vs. Alabama (1 p.m. ET): This is a rematch from Saturday's SEC regular season finale in which A&M beat Bama 68-66 but failed to cover as 5-point favorites. The Aggies opened as 1.5-point favorites in the rematch, which is great for bettors. Favorites after winning but failing to cover following this system are 66% ATS.
Marquette (+10.5) vs. Villanova (7 p.m. ET): Marquette eased by DePaul 72-69 on Wednesday, failing to cover as 5.5-point favorites. The Golden Eagles are 0-2 vs. Nova this season but have kept the games close, losing by 13 combined points.
Miami (+6.5) vs. North Carolina (9:30 p.m. ET): Can Miami pull the upset? The Canes beat North Carolina outright on the road last week as 10-point underdogs. Still, as of this writing, the public is all over the Tar Heels (89% of tickets, find live betting percentages here). Some bettors might be shying away from backing Miami after its one-point win (and ATS loss) vs. Virginia Tech to close the season.
Picture via Brad Penner-USA TODAY Sports