CW9: Week 4 college football betting value breakdown
The CW9 will take a weekly look at nine of the college football games that I'm interested in from an investment standpoint. I will focus on a number of factors, such as unit specific mismatches, scheduling opportunities and discovering value in the the market perception of teams. You can follow all of my plays for free on the SportsAction App through the App Store or Google Play.
---
UMass +28 at Tennessee
Date: Saturday, September 23rd
Notes: No need to sugarcoat that I am backing the Minutemen of UMass as a straight situational fade of the Volunteers, who find themselves in a classic conference sandwich spot. Last week, after making an inspired comeback to tie the game late, Tennessee suffered an improbable loss to conference rival Florida on a 63-yard Hail Mary from Feleipe Franks to Tyrie Cleveland as time expired. If you thought you drank a lot last night, wait until you see this Vols hangover. I just don't see the Volunteers' motivation for a noon kick against Umass, especially with Georgia on deck. Additionally, Tennessee stumbles into this game with a laundry list of starters on the injury report, including two wide receivers, a linebacker and a defensive back. UMass, currently 0-4 on the year, is a bad football team, but their record should be slightly better; they blew a late lead in their home opener against Hawaii and won the yardage battles in losses to Temple and Coastal Carolina. The spot is simply too sweet to pass up on the underdog given the hangover and lookahead angles in a game that I actually have power rated at 24.
The Pick: UMass +28
---
ODU +28 at Virginia Tech
Date: Saturday, September 23rd
Notes: Let's go back to the well for another day fade of a four touchdown home favorite that should lack motivation considering the overlook to a major primetime opponent next week. Virginia Tech, who has started to get national attention as a legitimate College Football Playoff threat, still has a few question marks on both sides of the ball. The Hokies showed their ability to come out flat last weekend, after they trailed 17-7 at the end of the first quarter to East Carolina, one of the worst teams in the country. Virginia Tech also allowed close to 600 yards against West Virginia. The Hokies have a lot of potential, but they are still working out some early-season kinks. Old Dominion should be extra motivated for the task against their in-state "older brother" in Blacksburg. As I have previously mentioned, the one stat in college football that I value the most is adjusted sack rate; Old Dominion ranks first in the nation averaging 5.33 sacks per game. As a result, the Monarchs should force enough punts to stay within this number against a Hokies team that won't have any interest in running up the score with Clemson on deck.
The Pick: Old Dominion +28
---
Wake Forest at Appalachian St +6
Date: Saturday, September 23rd
Notes: My power ratings make this game Appalachian State +2, so I certainly see value in the dog at +6, even moreso with Wake Forest having Florida State on deck. Looking for a good buy low, sell high opportunity? Wake has covered all three games this year, but I wouldn't get too excited about exceeding expectations against Utah State, Boston College, and Presbyterian. Conversely, App State has not covered a game in 2017 with a similar overall strength of schedule, but at least played a top 20 team in Georgia, which I think will benefit them this weekend. Appalachian State ranks similar to Wake Forest in categories such as total defense (top 25), opponent third down conversion (15th), opponent yards per play (29th) and sacks given up (19th). I think the Mountaineers learned a lot from their home blowout loss to Miami last season and find a way to get the cover against another ACC opponent in Boone this season.
The Pick: Appalachian State +6
---
Toledo +13.5 at Miami
Date: Saturday, September 23rd
Notes: Toledo, 10th in the nation in total offense at 552 yards per game, heads to Miami on an offensive roll to face a Hurricanes team that has not played since a season-opening victory over Bethune-Cookman. The Rockets are also 11th in yards per play at 7.52, 32nd in time of possession and 13th in first downs, meaning they have long, sustaining drives. That doesn't bode well for a Miami team that allowed Bethune-Cookman to have four drives that had at least 10 plays. Top 20 in sacks given up, averaging only 1 per game on Eli Woodside. Ahmmon Richards for Miami is listed as probable. Check out the weather and how it might impact the kicking and passing games, as 15 mph cross winds and light rain are expected throughout. For those into "useless trends," Toledo is 8-1-1 ATS over their last 10 September games and 14-2 ATS over their last 16 road games.
The Pick: Toledo +13.5
---
TCU +12.5 at Oklahoma St
Date: Saturday, September 16th
Notes: Crazy offensive numbers from both teams in 2017, but in the past Oklahoma State has owned this series. The big differences in the early games are opponent third down conversion percentage (OSU 91st, TCU 23rd), sacks (OSU 51st, TCU 33st), red zone points per attempt TD scoring (OSU 74th, TCU 16th). TCU has advantages in a small 2017 sample set. My PR and S&P+ make this a 7-point spread in favor of the Cowboys. This game should have plenty of swings with a total over 70, but keep in mind the track record in this series. Four of the last five games in this series have been 31-6, 42-9, 24-10 and 38-14. If Gundy and Patterson decide to make this an under game, I will take all the points I can get with the dog.
The Pick: TCU +12.5
---
Michigan -10 at Purdue
Date: Saturday, September 23rd
Notes: My notes highlight two important factors from the Week 3 games of both Michigan and Purdue, who face each other this week. Purdue did not record a single sack in the Missouri game, leaving them at one total in 2017. Michigan failed to cover against Air Force, but the final score was misleading, as they moved the ball at will. Michigan now ranks 126th in the nation in red zone points per attempt at just a little over three points per visit. The Wolverines should see their red zone production improve against a Purdue team ranked 60th in red zone scoring percentage against. When looking deeper into Purdue's adjusted sack rate, it's not pretty… ranking in the lower half of the FBS in tackles for loss. Michigan's defense has been stout and steady, ranking sixth in Sacks and fifth in total defense. Expect the red zone scoring attempts to pan out against a soft Purdue defense while the Wolverines' defense shuts down the Jeff Brohm offensive attack.
The Pick: Michigan -10
---
Miss State at Georgia -4
Date: Saturday, September 23rd
Notes: Mississippi State is coming off of a historic win at home against LSU, but this is the SEC, and each week should be tough competition. Leaving the friendly confines of StarkVegas, Cowbell now travels to Athens for a matchup with Georgia. The spread seems correct as myself and plenty of other power ratings systems place this number around 4, but what it won't tell you is how Georgia has dominated opposing quarterbacks. Kirby Smart's defense has kept opposing signal callers from leaving the pocket, even battering Brandon Wimbush of Notre Dame. Wimbush recorded 16 carries for 1 total yard while throwing for only 200 yards on 39 attempts. Georgia is relentless on defense, much like Smart's Alabama defenses were in the previous years. Mississippi State is no slouch on the defensive side of the ball, either, but they go as Nick Fitzgerald goes. If the Georgia defensive ends can contain Fitzgerald in the pocket, which I expect them to do, this will be a very long night for the Bulldogs from Starkville.
The Pick: Georgia -4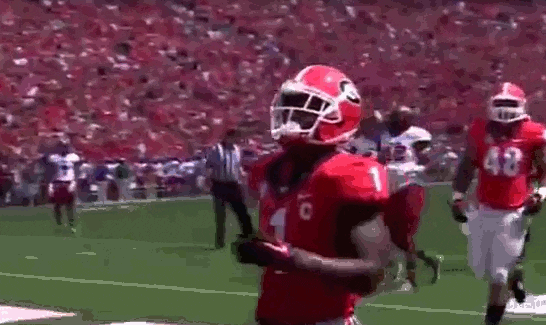 ---
FAU at Buffalo -2.5
Date: Saturday, September 23rd
Notes: Both Florida Atlantic and Buffalo are searching for their first FBS win in the 2017 season. The opening point spread was released at Buffalo +3, but quickly flipped before settling at the current number of -2.5/3 for the Bulls. Why do we like one of the worst teams in the MAC? Buffalo is rushing the ball successfully and has two losses (Minnesota and Army) by a combined 14 points. The Owls have had their issues defending the rush early this year, and will be without a couple of key starters in the front seven. Some of the rush defense statistics for the Owls are very poor, including their ranks of 119th in opponent rushing yards per attempt and 124th in time of possession. Buffalo should run the ball, control the line of scrimmage and be in control of the clock all night at UB Stadium.
The Pick: Buffalo -2.5
---
UCLA at Stanford -7
Date: Saturday, September 23rd
Notes: Stanford has suffered two straight losses to USC and San Diego State. Has the team that had the nation talking about a College Football Playoff run completely disappeared? I don't think so, especially considering the fact that the losses to USC and San Diego State had no impact on their chances of winning the Pac-12 North Division. The Tree, currently in prime "buy low" territory, should be fully motivated for UCLA after two consecutive subpar performances. UCLA, coming in off a loss in a thriller at Memphis, has major deficiencies on defense, which really stood out last week. UCLA suffers in categories where Stanford can particularly take advantage, including total defense (123rd in FBS), rushing yards per attempt (Stanford 4th, UCLA defense is 123rd), and penalty yards (Stanford 30 yards per game, UCLA 78-plus yards per game). Since my power ratings make this a 12-point spread, I will roll with the Trees in this conference bounceback spot.
The Pick: Stanford -7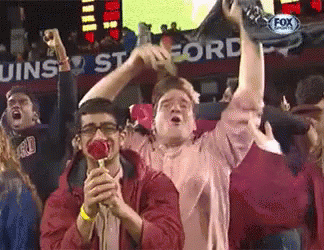 Be part of the Action
Download the Sports Action app at the App Store or Google Play now.