Moore: How NBA Trade Deadline Moves Impact the Futures Market
Credit:
AAron Ontiveroz/MediaNews Group/The Denver Post via Getty Images. Pictured: Nikola Jokic (15) of the Denver Nuggets.
Now that the trade deadline has officially passed, which teams got closer to vying for an NBA title?
Matt Moore explores the futures market for value on contenders in the East and West.
The NBA trade deadline is over. I broke down the trades in detail here. We talked about the Golden State-Minnesota big trade here in a roundtable.
But what do these moves mean for futures? Here's a look at the conference title odds through the prism of the trade deadline.
Western Conference Title Odds
Houston Rockets (+700, Westgate)
Their floor is lower and their ceiling is higher after dealing Clint Capela for Robert Covington. Thursday night's win over the Lakers was actually perfect for putting this in perspective.
The idea that the Rockets are now vulnerable down low by going fully small isn't a false narrative. They are going to get worked by great post players.
The problem? There are only a handful of those players in the NBA.
Joel Embiid, Nikola Jokic, Karl-Anthony Towns. Anthony Davis qualifies, but as Thursday night showed, Davis mostly just hits fadeaway jumpers and short scoops. He's not going to muscle you down and power it through you.
Meanwhile, by going five-out, the Rockets can maximize Russell Westbrook and produce optimal spacing. They're somehow going to shoot more 3-pointers with this group. That's going to give them a wider range of variance. It will help against low 3-point volume teams like the Lakers but it also means they're much more vulnerable to a cold spell.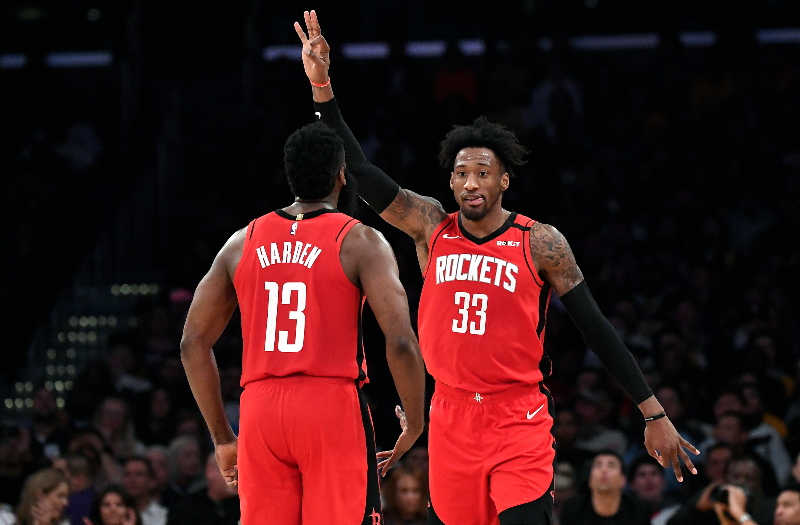 They have a better chance against the top teams in the West, but are more vulnerable to teams they previously dominated, like the Nuggets and Jazz.
In the end, you're better off waiting to bet them series-by-series and game-by-game in the playoffs because their variance of performance just went up with this trade.
Denver Nuggets (+1500, Westgate)
This is pretty exceptional value given that the Nuggets opened at +800.
They benefitted tremendously from Daryl Morey's decision to trade Capela. They had absolutely no answer for the lob. Springy lob finishers like Capela give Nikola Jokic fits. Without Capela, the matchup swings more towards Denver.
Jokic is also the kind of player who will directly attack those mismatches and not only score through them, but draw fouls. The Rockets trade literally moves them from a favorite against the Nuggets to an underdog.
Denver was the No. 2 seed last year and finished one quarter away from making the Western Conference Finals. Now they're the in the No. 3 spot in the standings and seem to be rounding into form.
If you're looking for a West underdog, it's this team.
Los Angeles Lakers (+120, Westgate)
I don't think any of the moves made change much for them. Marcus Morris might help the Clippers against LeBron James, but they already had Kawhi Leonard and Paul George.
Houstons's big threat to them is significant as Thursday showed. Davis just does not have the skillset or mindset to attack mismatches the way they need.
They're the prohibitive favorites for good reason, but at a number this short I don't think there's value, at least not before we see the seedings.
LA Clippers (+160, Westgate)
If you were looking to build a position with the Clippers, now might be the time. The Lakers are sliding, slightly, and that opens the door for the Clippers to steal the No. 1-seed.
Morris gives them another weapon and a good defender who brings attitude and personality. That said, they're still vulnerable to the Rockets and Nuggets, by virtue of Houston's ability to hang with them in 3-point shooting and Denver's interior play with Jokic.
The Clippers' team identity is somewhat in question, and their chemistry isn't great. But they know they're made for the playoffs and seem like the kind of team that may put it together just in time.
Eastern Conference Title Odds 
Miami Heat (+700, DraftKings)
The Heat don't have a bad matchup in the playoffs. They have Bam Adebayo and Jimmy Butler for when they face the Sixers. They have shooters to counter the Bucks. They have the versatility to face Boston.
Andre Iguodala doesn't move this needle for me. He's 36, and wasn't as good the past two seasons because of attrition. He's not a knockdown shooter, and is prone to long droughts.
However, Jae Crowder and Solomon Hill are underrated. Those are guys with athleticism who have played in big games, under the radar. Especially considering Hill is shooting 38% from deep. But who is losing minutes in the rotation?
Here's their 10-man rotation: Kendrick Nunn-Duncan Robinson – Butler – Myers Leonard – Adebayo – Derrick Jones Jr. – Goran Dragic – Tyler Herro – Kelly Olynyk – Chris Silva.
OK, toss Chris Silva out. Who among the remaining nine is losing minutes? Are they going to play small, with fewer Leonard and Olynyk minutes and more of Butler at the 4 with Iguodala at 3? Is Crowder going to play power forward?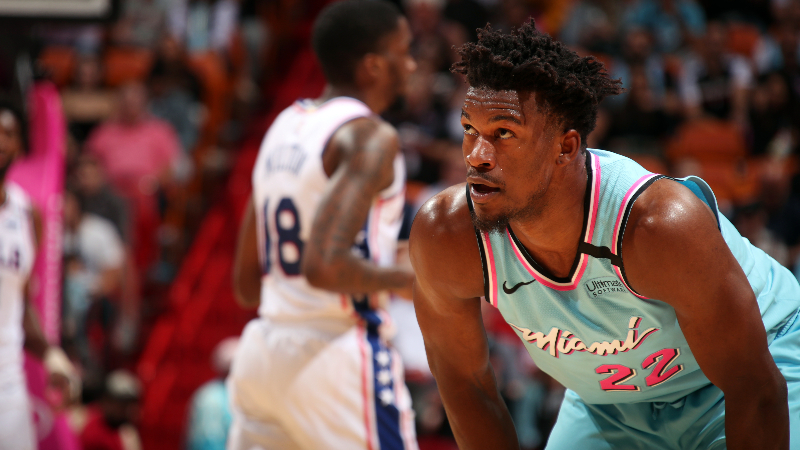 I don't mind going super small, it makes sense with their defense and shooting. But they made this big trade, which in reality they gave up an oft-injured wing in Justise Winslow and two guys who barely played in Dion Waiters and James Johnson so it's kind of whatever, but I don't know where the additions fit in.
There are a lot of options here, but nothing that makes anything click. So I don't think now is the time to move on this if you like the Heat to win the East because they'll be underdogs from Round 2 on.
Philadelphia 76ers (+700, DraftKings)
There's plenty of time, but the Sixers' very nice trade moves on the periphery don't really mean anything. It helps to have some wings who can score on the bench, but they will only go as far as Joel Embiid and Ben Simmons take them.
Their chemistry is such a mess right now that they need to be treated as a hazmat zone with your money.
There aren't any moves that really improve or hurt any of the other East teams' chances. The Bucks remain pretty clearly ahead of everyone else and yet the Raptors, Celtics, and Pacers all seem to think they really can knock everyone else off.
How would you rate this article?