Warriors vs. Blazers Game 3 Betting Preview: Should Golden State Be an Underdog?
Credit:
Photo credit: Kelvin Kuo-USA TODAY Sports. Pictured: Draymond Green and Stephen Curry
Game 3: Golden State Warriors at Portland Trail Blazers Betting Odds
Spread: Blazers -2.5
Over/Under: 221
Time: 9 p.m. ET
TV Channel: ESPN
Series Score: Warriors Lead 2-0
---
>> All odds as of Friday evening. Download The Action Network App to get real-time odds and live win probabilities on your bets.
---
The Warriors are rarely underdogs, even in the playoffs, but they're getting 2.5 points in Portland on Saturday night.
Are they worth a bet at that number? Our experts weigh in.
Betting Trends to Know
This is just the 10th playoff game under Steve Kerr that Golden State has been an underdog. The Warriors went 5-4 straight up and against the spread in the previous nine. — John Ewing
Since 2005, teams that lost the first two games of a series then are favored in Game 3 (like the Blazers) have gone 37-27-3 ATS. — Ewing
In the Warriors' 18 playoff series under Kerr (not including the current one), they've won at least one game SU and ATS on the road. — Evan Abrams
Since acquiring Kevin Durant in 2016, the Warriors are 5-4 SU and ATS in nine games as an underdog without him in the lineup, but are 3-0 SU and ATS this season, covering the spread by an average of 14.2 points per game. All three  of those games have been on the road.
Steph Curry played in five of those nine games as a dog without Durant, in which the Warriors are 5-0 SU and ATS, covering the spread by 13.6 PPG. — Abrams
Locky: How I'm Betting Warriors-Blazers Game 3

As noted in the trends section above, teams down 0-2 tend to play with more motivation. They also play better at home, so they do well ATS. The motivation angle is apparently real.
My question, though: Can the Blazers really play better than they did in Game 2? Where are their areas of improvement?
Sometimes teams go home 0-2 and nothing has gone right. The star players haven't gotten going, they aren't crashing the boards and the other team is playing above their head from a shooting standpoint. None of that has happened in this series.
The Warriors are playing a style and performing at a level that can carry over game to game. It's not like Curry and Klay Thompson are "expected" to shoot much worse long-term. They are kind of the best shooting duo in history. It doesn't mean they CAN'T shoot worse — just that it's unlikely to happen.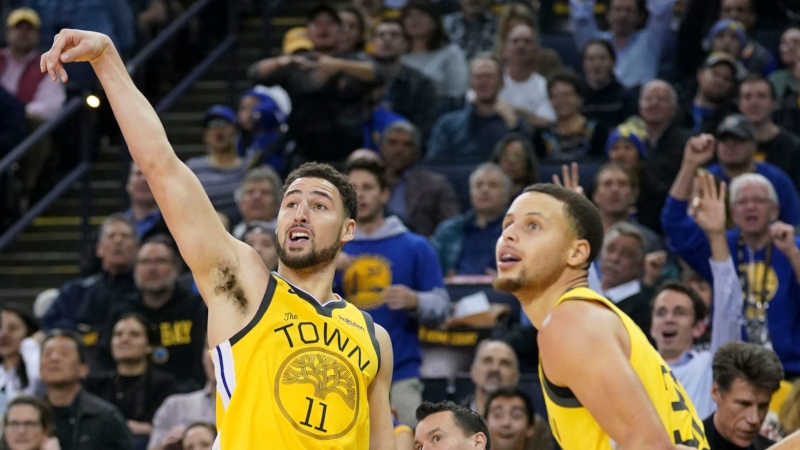 Thus, when I look at this game, I don't see the classic 0-2 setup that others might. Game 2 of this series had to be one of the largest emotional letdowns of the playoffs, with Portland squandering such a massive lead and continuing to be unable to contain Curry and Thompson down the stretch to close it out.
The market has consistently downgraded the Warriors without Durant during this stretch and, as we all know, when Curry has played and Durant hasn't, the Warriors are winning almost 100% of their games.
Portland off that Game 2 isn't the team to hand them another loss. The level of play of this current Warriors team is frightening and awesome, and I see no indications it will let up in this spot. Meanwhile, Portland got GREAT games from Seth Curry, Meyers Leonard and Rodney Hood. That's probably not repeatable, no matter how much better you expect Damian Lillard to play.
This line implies that by removing home-court advantage, these teams are basically dead even (or Golden State is only 0.5 to 1 points better). That's incorrect.
Too much is being placed on motivation, and as we've seen this Warriors team without Durant seems very motivated to play well every night. They genuinely enjoy playing together.
I'll gladly take the Warriors plus points in Game 3. — Ken Barkley
Mears: What's Going on with Damian Lillard?
Let's talk about Damian Lillard.
In Game 1, he had a points prop of 29.5; he finished with 19. In Game 2, it was 28.5; he had 23. Was that just poor shooting, or is there something with the Warriors defense that's giving him problems?
The answer is the latter. Put simply: The Warriors are really helping on him and forcing the other Blazers to beat them. Thompson has been phenomenal on Lillard 1-on-1, and the Dubs haven't hesitated to double him and shade help toward him:
In that clip above, Andre Iguodala doubled him with Klay, forcing Lillard back out to nearly halfcourt. Then Steph even shaded over up top to give Klay help, with the resulting shot a really tough fadeaway mid-ranger. Lillard got some space because he's Damian Lillard, but if that's the shot quality he's getting, he's going to continue to struggle. Almost every player would.
As a result, he's turned to pulling up from deep. No, like DEEP.
He can make those, but the Warriors will be just fine letting him take 35-footers instead of being the offensive initiator.
Lillard can, of course, go off at home. On the road in these playoffs, he's averaging 23.3 points on 38.9% shooting. At home, though, he's averaging 32.8 points on better 45.8% shooting.
But a lot of that was in the first round, and he's seen his usage rate drop significantly each round moving forward:
Round 1 vs. Thunder: 31.2% usage
Round 2 vs. Nuggets: 27.5% usage
Round 3 vs. Warriors: 23.5% usage
Against the Thunder, he averaged 36.3 points per game at home. Against the Nuggets, that was down to 29.3. Can he get back into the high 20s or 30s on the road against this solid Warriors defense?
He certainly can, but if his prop opens around 29.5/30 again, I think it's worth a bet on the under. And if you think he'll continue to struggle even at home, the Warriors getting plus points has to be intriguing, too. — Bryan Mears
---
Editor's note: The opinions on this game are from the individual writers and are based on their research, analysis and perspective. They are independent of, and may not always match with, the algorithm-driven Best Bets from Sports Insights.