NHL Second-Half Betting Preview: Updated Stanley Cup Odds and Futures To Buy Now
Credit:
Joe Puetz/NHLI via Getty Images. Pictured: Jordan Binnington, Robert Bortuzzo
The NHL All-Star Break is as good a time as any to take a good, hard look at the betting landscape. There are no games until Monday and organizations usually use the four-day break to assess where they stand for the second half.
Parity is the name of the game in the NHL and the league loves to flaunt the "any team, any year" ethos of hockey, and there is no better way to behold parity than to take a gander at the odds.
There are six teams between +900 (10% implied probability) and +1200 (7.7%), 12 teams between +900 and +2000 (4.8%) and 17 teams between +900 and +3000 (3.2%). If the league really wants to pump the parity, it should start right here:
---
Odds via FanDuel, where Action Network users get a risk-free bet up to $500.
---
2020 Stanley Cup Odds
Tampa Bay Lightning +900
Washington Capitals +900
Boston Bruins +950
St. Louis Blues +950
Colorado Avalanche +1100
Pittsburgh Penguins +1200
Dallas Stars +1400
Toronto Maple Leafs +1600
Vegas Golden Knights +1600
Arizona Coyotes +1700
Carolina Hurricanes +1700
New York Islanders +1800
Calgary Flames +2400
Nashville Predators +2400
Vancouver Canucks +2600
Florida Panthers +2800
Edmonton Oilers +3000
Philadelphia Flyers +3600
Winnipeg Jets +3600
Columbus Blue Jackets +6000
Buffalo Sabres +7000
New York Rangers +7000
Minnesota Wild +8000
San Jose Sharks +9500
Chicago Blackhawks +10000
It isn't unusual to see a bunch of teams bunched up in between 10-1 and 20-1, but the fact that no team has truly separated itself from the pack is atypical. And as tight as things are in the betting market, they are even tighter in the standings.
At the break, only nine teams are more than six points out of the playoffs and the Bruins are the only team with more than a six-point cushion in their respective division. But even that lead is tenuous as the B's are being chased by the red-hot Lightning, who have three games in hand.
All this parity at both ends of the playoff race has to lead to some betting value, right?
Buy Now
There was a time, around mid-November, when people were actually worried about the Tampa Bay Lightning. A few months later and the Bolts are right where we expected them to be — at, or near, the top of the odds.
Everything is clicking for the Lightning right now. They are 17-7-1 in their last 25 games, lead the NHL with a 55.8% expected goals rate and rank third with a 57.3% goal share. The scary part is that Tampa is still trending up. Over their last 15 games, the Bolts boast a 60.1% expected goals share and are averaging 3.82 goals per 60 minutes at 5-on-5 in that span. And to think, people were calling for Jon Cooper's job a couple months ago.
As is always the case in the NHL, how far the Bolts go in the spring will ultimately come down to goaltending. Reigning Vezina Trophy winner Andrei Vasilevskiy struggled through the first 30 games of the season but he's begun to round into form lately. The Russian netminder has a +4.28 Goals Saved Above Expectation (GSAx) over his last 10 games, which is a big improvement on the -10.9 GSAx he posted through his first 26 outings.
Even though Tampa will, in all likelihood, need to battle it out with Boston and Toronto in the playoffs, I believe the Lightning should be the clear Stanley Cup favorite at this point of the season. It's not the most exciting of claims, but there's a lot of signals suggesting to buy now on Tampa Bay because these odds are only moving in one direction.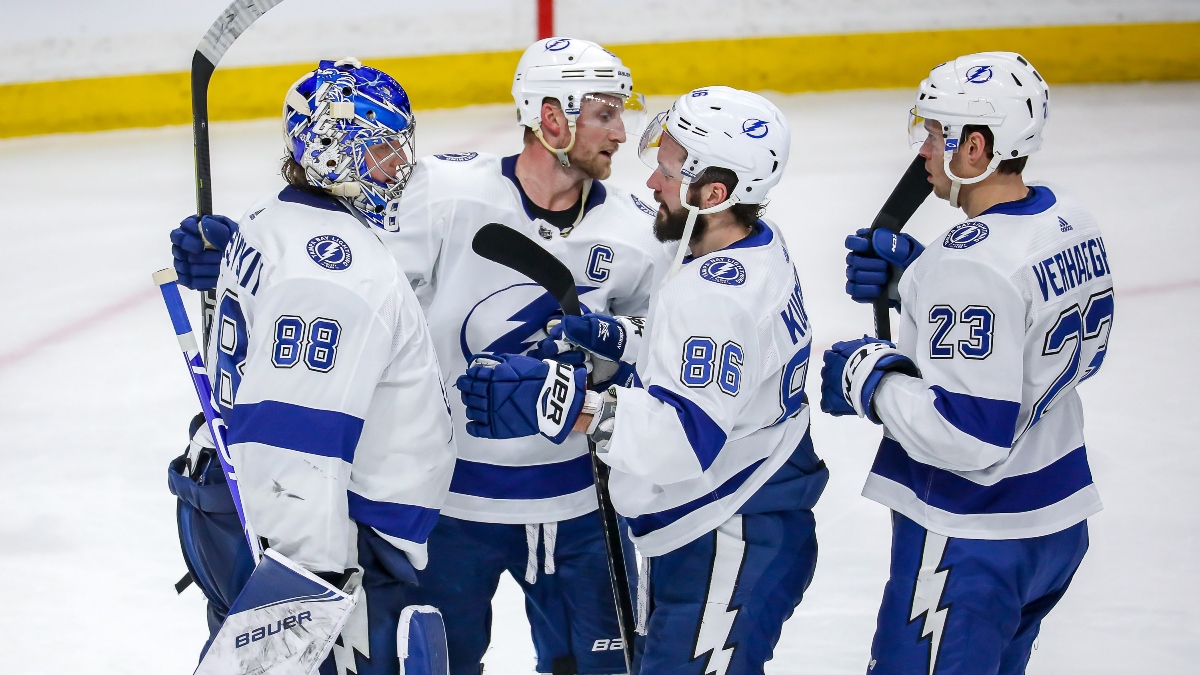 The Wide-Open Pacific Division
The Pacific Division is far and away the softest in the NHL and that makes it the best place to shop for a potential longshot to take a flier on this spring.
To get through the Metropolitan Division, you will likely need to knock off at least one of Washington and/or Pittsburgh. To get through the Atlantic, you'll need to survive Boston, Tampa Bay and perhaps Toronto. The Central Division features St. Louis, Colorado and Dallas. 
If the playoffs started today, the Pacific bracket would look like this:
No. 1 Vancouver vs. No. 4 Arizona
No. 2 Edmonton vs. No. 3 Calgary
That isn't exactly a murderers' row and it doesn't seem quite fair that one of those four teams would end up in the Western Conference Finals, while one of Colorado and Dallas would be bounced in Round 1. C'est la Vie.
Of course these positions are very likely to shift over the next 35 games or so, only one point separates division-leading Vancouver (58 points) from Edmonton, Calgary, Arizona and Vegas (57 points), but what won't change is that the Pacific bracket will be wide open when the tournament starts in April.
That means that the team that finishes in the first wild-card spot, whether it's one of those four teams above, Vegas or an outside-looking-in team like Nashville, Minnesota or even Chicago, will be a live underdog this spring.
Buy Later
I always have time for longshots, so let's start with the Chicago Blackhawks (100-1), who are three points out of the playoffs with a game in hand on Vegas, which is currently occupying the final Wild Card spot.
Chicago is a deeply flawed team, but the Blackhawks' starpower and goaltending makes them, at the very least, intriguing at this number. Still, it's hard to back a team with such a shambolic defense. On the season, Chicago is allowing 2.74 xGA/60 (expected goals allowed per 60 minutes), which is the third-worst mark in the NHL. Things aren't getting any better lately, either, as the Hawks are allowing 2.74 xGA/60 over their last 15 games as well.
Anything can happen in the NHL and Chicago certainly has a chance to make the postseason and make these odds very interesting, but I'm not going to be tempted by the big number unless the Blackhawks show me something in the next two weeks.
Minnesota (80-1) is the anti-Chicago. The Wild have a terrific defense, but no real starpower and terrible goaltending. Prior to the season, I was pumping up the Wild because of their terrific defense and strong 5-on-5 metrics under Bruce Boudreau. The defense is still sturdy and Minnesota's 5-on-5 play is still good, but the Wild haven't been able to turn their good process into results because of their goalies.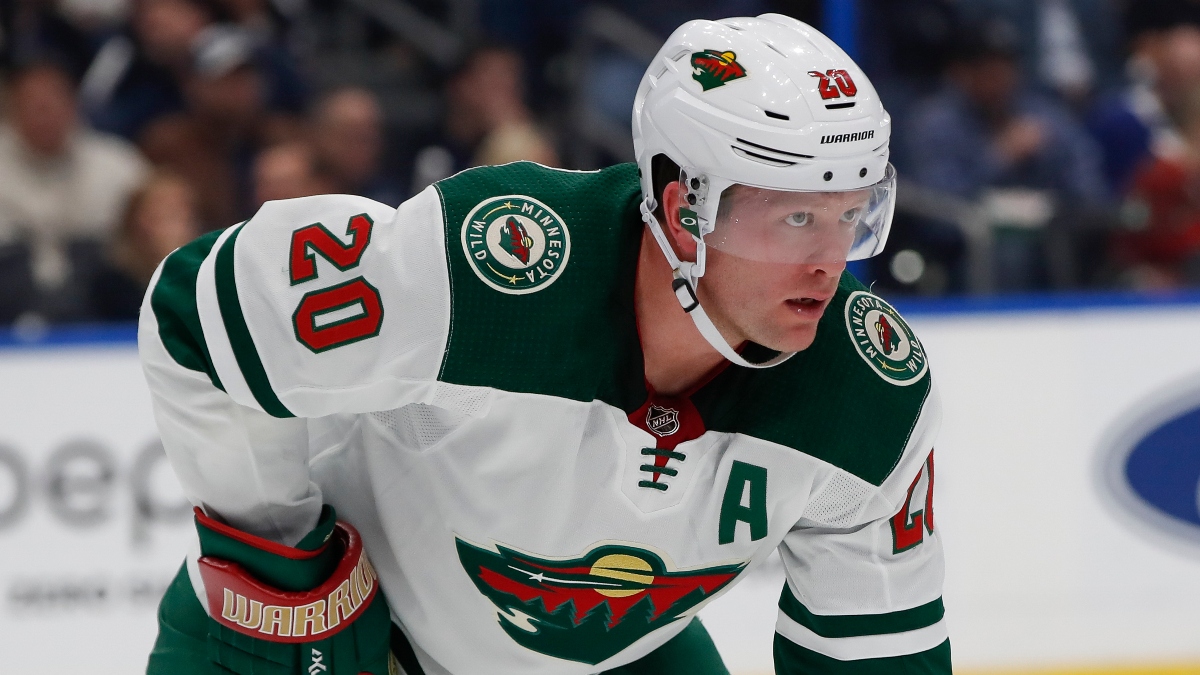 The Wild lead the league with a 1.99 xGA/60 and their 52.8% expected goals rate is the sixth-best mark in the circuit. Unfortunately, Devan Dubnyk and Alex Stalock have a combined -37 GSAx this season, making them the worst goaltending tandem in the NHL by a country mile. Dubnyk's -20.6 GSAx is second-to-last among qualified goaltenders and Stalock's -16.4 GSAx is third-to-last. If Minnesota went out and got just an average goaltender, it would be a different team.
But alas, the Wild are a longshot to make the postseason and could be in position to sell off assets to set themselves up for a more promising '20-21 season. Minnesota has long been in the not-good-enough-to-contend-but-not-bad-enough-to-reap-the-rewards-of-the-lottery range for quite some time and now might be the best time for Minnesota to cash in on some veteran players.
If the Wild do put together a few wins on the other end of the break, they are worth revisiting because they will be a brutal out if they make the postseason. I am having a hard time quitting this team because of their best-in-class defense, but there isn't any harm in waiting this one out.
Coaching Carousel
The Predators (24-1) and Golden Knights (16-1) are in a weirdly similar spot. Both clubs fired their head coach this month and then replaced him with a coach who was sacked by another team earlier this season. And both teams made the switch despite good 5-on-5 play. The only difference is that one move — Nashville replacing Peter Laviolette with John Hynes — was arguably warranted while the other — Vegas swapping Gerard Gallant out for Peter deBoer — was a head-scratcher.
Even with the turmoil neither of these teams should be counted out. Vegas is the league's second-best expected goals team and if the Knights can continue to operate at that level under deBoer, they will be a threat. It's no guarantee that happens — San Jose struggled immensely at 5-on-5 under deBoer this season — but if the change is handled adequately, the Knights could run through the Pacific. Their Stanley Cup odds are still too short, but I wouldn't stop anybody from taking Vegas at +380 to win the Pacific Division.
The Predators intrigue me for a couple of reasons. First, they could end up in that coveted Pacific Division wild-card spot, which would mean they would avoid St. Louis, Colorado and/or Dallas until the Western Conference Final. That's some reward for finishing seventh.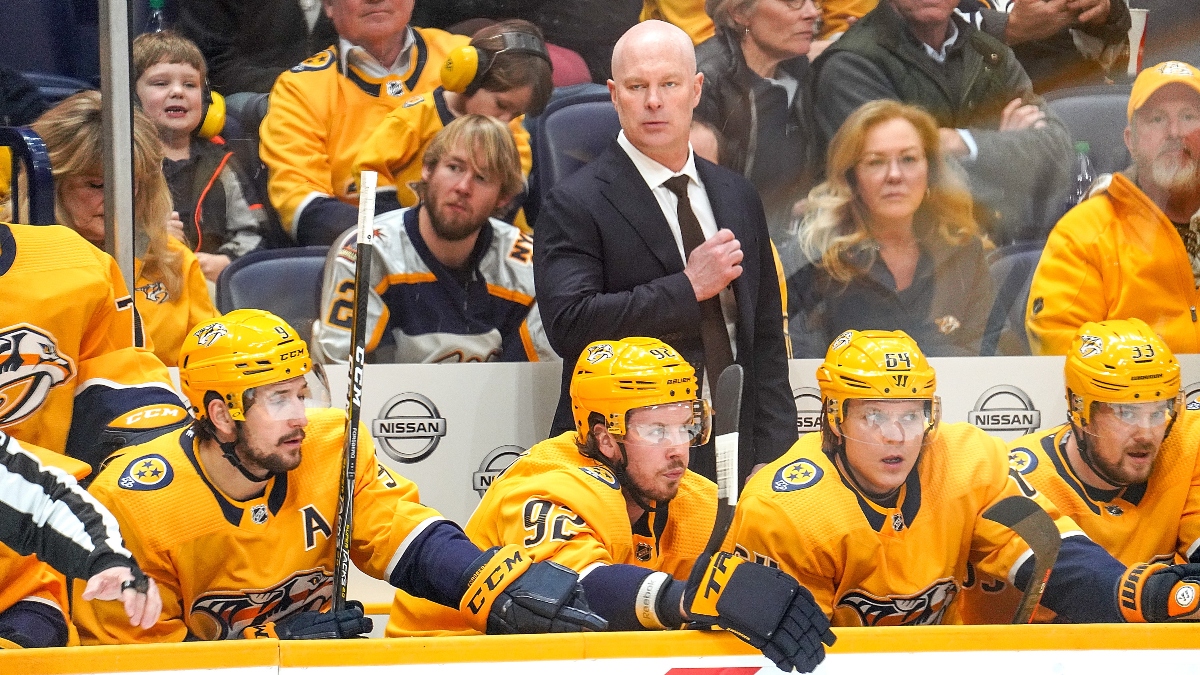 Secondly, the Predators have been good at 5-on-5 all season and the early returns under Hynes have been encouraging. It's a small sample, but in six games under its new coach, Nashville has a 54.4% expected goals rate, which is an improvement on their season-long mark of 52.2%.
Coming into the season, Pekka Rinne and Juuse Saros would have been considered one of the league's best goaltending tandems, but goalies are fickle beasts. Rinne has been the fourth-worst goaltender this season by GSAx and Saros isn't that far behind. There's always the possibility that goaltenders fall off a cliff for a season, but I am willing to bet that one of these two netminders will, at the very least, regress to league average over the next 30 games. If that happens, the Preds will start to climb because the rest of the team looks A-OK.
I am bullish on Nashville making some noise but I would need a bigger number than 24-1 to get involved. Those odds carry an implied probability of 4%, which is a smidge high on a team with some serious work to do just to get into the playoffs. However, if Nashville looks to be headed for that first wild-card spot, the Preds become a lot more playable in a variety of ways, whether it's to win the Cup or the conference.
Futures
For the sake of transparency, here's a list of the NHL futures I've bet since the offseason.
Lightning (+900) To Win Stanley Cup
Penguins (+2500) To Win Stanley Cup
Penguins (+2000) To Win Stanley Cup
Islanders (+2500) To Win Stanley Cup
Ducks (+10000) To Win Stanley Cup
Islanders (+625) To Win Metropolitan Division
Canucks (+900) To Win Pacific Division
Lightning (+450) To Win Atlantic Division
Wild (+5000) To Win Central Division
How would you rate this article?