Ever since Justice Kennedy announced his retirement on June 27, we've been tracking the odds on who will be the next Supreme Court Justice. We're now entering the home stretch, with President Trump set to announce his pick just three days from now. It will be a prime-time address to the nation Monday night, July 9 at 9 p.m. ET.
Yesterday, we explained how the race was down to three top contenders: Brett Kavanaugh, Amy Coney Barrett and Raymond Kethledge. In the past 24 hours, we've seen massive movement, with one contender emerging as a clear favorite.
As you can see, Kavanaugh has skyrocketed from +180 to -130 during the past 24 hours. This marks the first time than any candidate has moved to minus-money. Barrett held favorite status for nearly a week, but has dipped from +155 to +300 since Thursday.
Kethledge remains an intriguing play. His odds have steadily improved with each passing day. After opening at +1000, he is down to +130, officially leapfrogging Barett for the second-best odds.
Hardiman could have value as well. He is thought be one of the final four contenders Trump is considering. But since yesterday, his odds have tanked from +1200 to +2500.
Seven candidates have moved from +5000 to +10000 over the past 24 hours, essentially taking them out of the running (Pryor, Lee, Larsen, Grant, Willett, Clement and Sykes).
KAVANAUGH continues to rise in the SCOTUS search process, even as some Rs gripe about various rulings, Bush ties. He met privately with VP Pence on Wed. at the VP residence, per 2 Rs briefed on the mtg. And that meeting went well, they said.

— Robert Costa (@costareports) July 5, 2018
Inside the SCOTUS search and the West Wing: Kavanaugh targeted but still a front-runner. Kethledge rising fast. Coney Barrett liked by POTUS, but has been on bench for less than a year. My latest w/ @seungminkim https://t.co/xVI9yuGhGD

— Robert Costa (@costareports) July 6, 2018
Memo to any concerned conservatives: Brett Kavanaugh would be a PHENOMENAL SCOTUS Justice. Rock solid 12 yrs of jurisprudence on 2A, immig, slammed use of int'l law, & slammed by @SenWarren!

— Laura Ingraham (@IngrahamAngle) July 5, 2018
One of my best #SCOTUS sources tells me that heading into the weekend, KAVANAUGH is the "strongest contender," but adds POTUS still has some Q's & it'd be an overreaction to rule out the other top 3 (Kethledge, Barrett, Hardiman) at this stage.

— Guy Benson (@guypbenson) July 6, 2018
Sources tell @FoxNews that the White House is preparing 4 rollout packages for @realDonaldTrump nomination announcement. The 4 are Kavanaugh, Kethledge, Barrett…….and…….Thomas Hardiman

— John Roberts (@johnrobertsFox) July 6, 2018
At PredictIt, Kavanaugh remains the overwhelming favorite, although his odds have dipped slightly over the past 24 hours. Kethledge has held steady in second place, edging out Barrett. Hardiman remains a massive longshot, but his odds have been on the rise.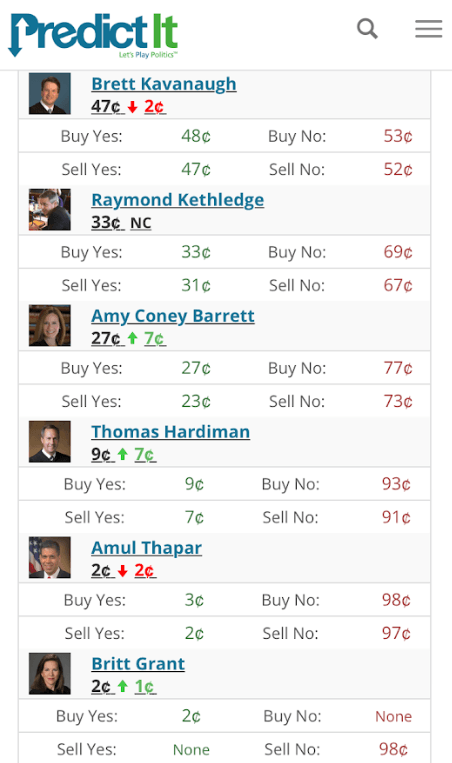 At Smarkets, Kavanaugh looks like a layup. They give him a 60.61% chance of winning the nomination.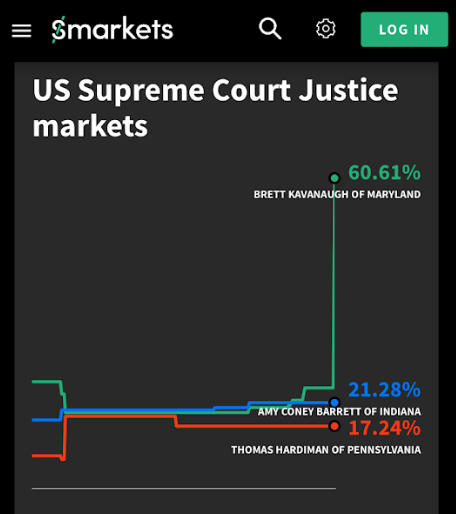 What do you think?
Did you jump on the Barrett train earlier in the week? Will you be placing a wager on Kavanaugh or is the value all gone at this point? Is Kethledge the dark horse? Is Hardiman worth taking a shot on at +2500?
You can find me on Twitter @Josh_Insights.