NBA Odds & Betting Picks (March 5): The Underrated Metric Leading to Value in Steph Curry's Return to the Floor
Credit:
Photo credit: Thearon W. Henderson/Getty Images. Pictured: Stephen Curry
In his Thursday NBA Manifesto, Bryan Mears identifies a hidden metric that will provide value in Steph Curry's return.
Mears also offers some analysis on Kings (-5) vs. Sixers and the total for Raptors-Warriors.
See the full betting breakdown below.
This NBA season, I'm trying something new. I'm going to write a daily piece that highlights everything bettors and DFS players need to know for that night's slate. For more on what to expect, read the inaugural piece.
Yesterday I finished 2-3 for -0.6 units. While I don't want to get sucked into the past, I think it's worth reviewing things each day.
The best way to do that is to look at closing line value (CLV), which is just measuring whether the line you bet moved for or against you by closing.
I bet Celtics -2.5 and it closed at Celtics -4 (won)
I bet Pacers-Bucks under 221 and it closed at 220.5 (won)
I bet Magic-Heat under 219 and it closed at 218.5 (lost)
I bet Bulls-Wolves over 231 and it closed at 231.5 (lost)
I bet Wizards-Blazers over 242 and it closed at 243.5 (lost)
It was a slightly negative day in terms of results but a good one in terms of CLV: I bet the closing line on all five games I bet.
I think my biggest win was on the Celtics game: I thought the opening number of -2/-2.5 was priced at Boston's floor and assumed all of Kemba Walker, Jaylen Brown, Gordon Hayward and Jayson Tatum would be out. That proved to be right, as the line moved up even when just Tatum was announced playing.
Anyway, let's dive into today's slate and find some angles.
YTD Record:
Overall: 244-230-3
Spreads: 95-93-3
Totals: 93-104
Moneylines: 24-11
Parlays: 3-0
Props: 29-22
NBA Betting Odds and Analysis
Jump To: Odds & Analysis | Projected Starting Lineups & Injury News | Player Props | DFS Values & Strategy | My Bets
---
Odds as of Thursday afternoon and via FanDuel. Get up to a $500 risk-free bet at FanDuel today or see more offers and reviews for the best online sportsbooks.
---
7 p.m. ET: Denver Nuggets (-10) at Charlotte Hornets, 207.5
8 p.m. ET: LA Clippers at Houston Rockets (pick), 237
10 p.m. ET: Philadelphia 76ers at Sacramento Kings (-5), 218.5
10:30 p.m. ET: Toronto Raptors (-8) at Golden State Warriors, 225.5
76ers at Kings
Alright, let's get the obvious out of the way…
Here are the 76ers' splits at home vs. the road:
Philly at home: +11.8 Net Rating (2nd) | 114.3 ORtg (10th) | 102.5 DRtg (2nd) | +3.4 spread differential (2nd)
Philly away: -6.5 Net Rating (24th) | 106.1 ORtg (25th) | 112.5 DRtg (20th) | -5.7 spread differential (29th)
The 76ers are a league-worst 10-22 against the spread (ATS) on the road this season, and they're 8-10 ATS as underdogs overall. Their road splits have been even worse of late: They have always sucked offensively away from Philly, but the defense was still a borderline top-10 unit. Now, it's down to the bottom 10.
It's hard to imagine that changing today, especially since the 76ers will likely again be without Joel Embiid, Ben Simmons and Josh Richardson — their three most important players.
The 76ers didn't cover on the road the other night against the Lakers as 12.5-point dogs, but the argument I heard for why taking L.A. was risky was because of motivation concerns. LeBron James & Co. are gearing up for the playoffs and are very likely to get the No. 1 seed. Why would they try hard against a reeling Philly team without its three best players?
That was a very fair argument (I still took the Lakers, for what it's worth), but I'm not sure you can even make that case tonight. The Kings are fighting for their playoff lives, and after an awesome couple of weeks, they're tied with the Trail Blazers for the ninth spot and sit just three games back of the Grizzlies. They need every game from here on out and should be highly motivated tonight.
And as mentioned, they've been awesome lately, going 7-3 ATS in their past 10. Overall in the past two weeks, they're fifth in the league with a 6-1 record and a sterling +6.4 Net Rating. They have nearly a top-10 offense and defense.
And it's not even just hot shooting, which can be highly volatile. In fact, they're merely average in eFG% since the All-Star break. Instead, they've done a great job protecting the ball, getting to the foul line and playing strict defense. Whatever caused the upswing, it's working: They're playing more fundamentally sound basketball, and it has finally translated to wins.
The market will eventually catch up to Philly's problems; in fact, it might already have. This isn't about the Sixers necessarily — although I think the market isn't correctly pricing their downside scenarios (spreads are a median outcome). It's about the Kings and how good they've been lately, especially in areas I think are sustainable as they push towards a playoff bid.
Raptors at Warriors
Steph is back!
It remains to be seen whether he'll be rusty and how much the Warriors will limit him, but let's talk about his on-court impact for this squad.
He's likely very impactful offensively, while either not impactful defensively or perhaps a downgrade (I'd personally have it neutral). Even with the Warriors, he's consistently had strong on/off metrics, showing just how important he is even when playing among stars.
The most underrated impact of Steph's presence on the court, though, has always been pace. Take last season for example: With him on the floor, the Warriors got out in transition 4.0% more. That may not sound like much, but that's a huge swing — it was one of the highest marks in the league.
If we look at just pace on vs. pace off for players, Steph over the last several years has been the most important player in the league — i.e., he affects his team's pace more than any other player.
So this isn't just "Steph is going to make the offense more efficient." He's going to make it more efficient plus they're going to get many more opportunities, and especially ones that usually lead to positive outcomes. It's a multiplier that I think is undervalued by both the public and the betting market.
So let's think about this game: The Raptors are awesome and getting healthier. They should have no problem scoring here; again, I think Steph's addition is likely neutral to the defense. But there's also going to be an increased pace that's likely underrated, giving both offenses more possessions.
The public is on the over — it's getting 74% of the bets — but there also seems to be sharp money there, too: 96% of the money wagered is on the side. We've also tracked a steam move on the over at 223 with no buyback on the under. I'll be on the public side on this one and take the over.
Projected Starting Lineups and Injury News
Note: Info as of 1:30 p.m. ET. For up-to-the-minute lineups and news, see our live lineups page.
Projected Lineups
Charlotte Hornets: Devonte' Graham – Terry Rozier – Miles Bridges – PJ Washington – Cody Zeller
Denver Nuggets: Jamal Murray – Gary Harris – Will Barton – Paul Millsap – Nikola Jokic
Golden State Warriors: Stephen Curry – Damion Lee – Andrew Wiggins – Draymond Green – Marquese Chriss
Houston Rockets: Russell Westbrook – James Harden – Robert Covington – Danuel House – PJ Tucker
LA Clippers: Patrick Beverley – Kawhi Leonard – Paul George – Marcus Morris – Ivica Zubac
Philadelphia 76ers: Shake Milton – Matisse Thybulle – Glenn Robinson III – Tobias Harris – Al Horford
Sacramento Kings: De'Aaron Fox – Bogdan Bogdanovic – Harrison Barnes – Nemanja Bjelica – Harry Giles
Toronto Raptors: Kyle Lowry – Fred VanVleet – OG Anunoby – Pascal Siakam – Marc Gasol
Injury News
Charlotte Hornets: Devonte' Graham (ankle) is questionable.
Denver Nuggets: Noah Vonleh (ankle) is TBD.
Golden State Warriors: Stephen Curry (hand) will play. Kevon Looney (hip) is out. Draymond Green (knee) is questionable.
Houston Rockets: DeMarre Carroll (illness) is available to play.
LA Clippers: Nothing new.
Philadelphia 76ers: Josh Richardson (concussion), Joel Embiid (shoulder) and Ben Simmons (back) remain out.
Sacramento Kings: De'Aaron Fox (abdominal) and Cory Joseph (heel) are probable.
Toronto Raptors: Marc Gasol (hamstring), Fred VanVleet (shoulder) and Serge Ibaka (knee) are questionable.
Player Props
To bet props, I use our FantasyLabs player props tool. Follow me in the Action Network app to see my bets (or go to the bottom of the article), but the more important thing is the tool, which measures our projections for every player vs. current odds in the market and highlights the biggest edges for you.
Player props are an inefficient market, which allows casual bettors (limits are low, so pro bettors aren't incentivized to prioritize them) to grab very +EV bets.
That said, the lines move quickly. Our props tool is set up so you can always see whether there's an edge even at the updated numbers throughout the day.
It's one of my favorite tools we offer and should be one of your bookmarked pages if you like making a few extra bucks. Here's a screenshot of what it looks like:

My usual recommendation: Bet unders.
Last season, 10-rated props in our tool hit at a 60.31% rate. But overs hit at a 57.08% rate vs. 66.47% for unders. For 9-rated props, 55.96% of overs were successful bets vs. 62.60% for unders.
As I have noted in the past, unders have more outs: A blowout, an injury, a poor shooting night all will likely make the under hit. But also, props are less efficient as a market given the low limits, so they're less likely to adjust for things like opponent and pace.
One example is Furkan Korkmaz's 13.5-point prop.
Korkmaz has gone under this total each of his past three games. He's been right around 25 minutes and an 18% usage rate, so at this point you're essentially taking an over/under on whether he'll shoot 50% from the field.
He actually hasn't shot terribly lately: In his last game against the Lakers, he went 3-of-5 from beyond the arc. Against the Knicks before that, he actually shot over 50% from the field and still got to just 11 points.
I wrote about the Kings above and how I'm tentatively buying them right now: Their defense has been excellent since the All-Star break, and they seem highly motivated pushing towards the playoffs. I'm going to buy that defense again and sell the points prop on a low-usage player.
DFS Values and Strategy
It's a small slate, so it's predictably pretty light up top. Russell Westbrook and James Harden are the only players priced above $10,000 on DraftKings, although we are projecting them as values tonight.
It's a tough matchup against the Clippers, sure, but it's also hard to ignore the massive minutes and usage they're putting up lately. They've both been approaching 40 minutes and are above a 30% usage rate; there's upside in both of those metrics, especially against a great team like the Clippers. There's some risk here given L.A.'s defenders, but these guys have pretty safe floors given their unmatched roles.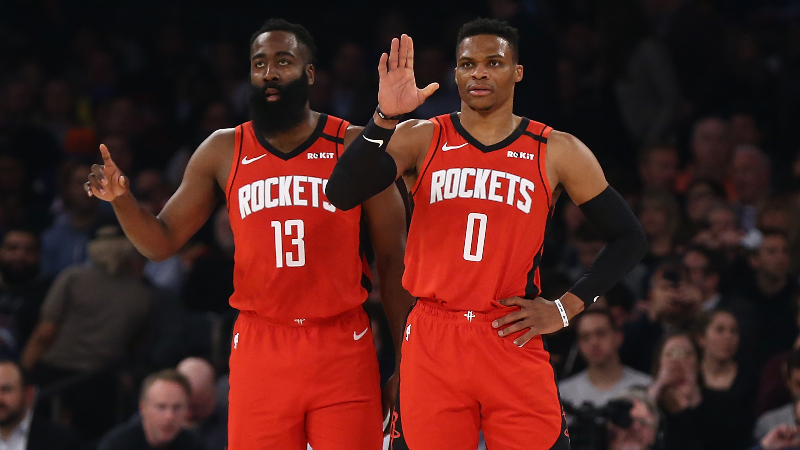 Dip below those guys and there's some solid value. Kawhi Leonard is underpriced on FanDuel at $9,200, and if you go a little lower to the $6-7k range, that's where the slate really shines.
Tobias Harris is probably the most mis-priced guy right now at $7,100; he'll likely again be without Joel Embiid, Ben Simmons and Josh Richardson, which means he'll be the go-to guy on offense. He missed value last game, but it was against the Lakers; the workload was there.
Other Philly guys are standing out, too, including Shake Milton, Al Horford and Glenn Robinson III, all of whom aren't priced to their current roles. Other values in the mid-tier include Robert Covington, Fred VanVleet, Terry Rozier and Jamal Murray.
Yesterday was a stars-and-scrubs kind of day; I think this slate warrants a more balanced build, especially since the studs — Kawhi, Harden, Westbrook, etc. — are in a tough matchup with each other.
On small slates especially, I like potentially stacking a game, as it's easier to identify those spots in a four-game sample and can lead to value in tournaments. I think that would be my preferred route in tournaments over simply going stars-and-scrubs as a counter to a balanced build.
Of course, remember injury news: Fred VanVleet, Devonte' Graham, Draymond Green and Serge Ibaka are all questionable. De'Aaron Fox is probable.
You know the drill: Follow the news and make sure to subscribe to our models to see up-to-the-minute projection updates.
For more DFS analysis and value plays, check out the FantasyLabs NBA models.
My Bets Currently
Kings -5
Raptors-Warriors over 225.5
[In New Jersey, Pennsylvania, Indiana or West Virginia? Bet now at FanDuel]
Follow me in our free app if you want an alert on bets I make.
How would you rate this article?