NHL Daily Betting Picks & Odds: Four Best Bets for Saturday's Action Including Devils-Penguins, Wild-Avalanche and Oilers-Jets (March 20)
Credit:
Glenn James/NHLI via Getty Images. Pictured: Joel Kiviranta
During the pandemic I got into Aussie Rules Football. One of our engineers, let's call him 'DQ', at The Action Network lived Down Under for a little while and fell in love with the North Melbourne Kangaroos. So last March when all American sports shut down, I went looking high and low for a place to get some action down. That led me to DQ. He led me to the footy and soon a friendship formed — and not just because his first few bets did well.
I'm of the belief that if you have a passing interest in a sport and want to learn more, the best way to is to bet on it. You'll quickly be invested, figure out the nuances and if you and that sport jive, you'll be back for more. I jived pretty quickly with footy and it didn't occur to me until the other night why I got along with it so well.
Incredibly, this sport, which features 36 players doing whatever they can to kick an egg-shaped ball between two tall sticks, has a lot in common with hockey. It's chaotic, physical and the action is non-stop. The gameflow leads to massive swings that can come out of nowhere. And of course, the pain from watching a win turn into a loss because of some crazy bounce is a familiar feeling.
On Wednesday night, I had a bet on the San Jose Sharks as +210 underdogs against the Vegas Golden Knights. I didn't expect the Sharks to win, but they jumped out to a 3-1 lead and took that score into the third period. And then in the blink of an eye that lead evaporated into the ether like it didn't exist. It was gone so quickly I didn't even have time to feel sorry for myself.
A few hours later, I watched the Carlton Blues take on the dynastic Richmond Tigers in the season opener of the 2021 AFL season. The Tigers were 25.5-point favorites, which isn't a huge disparity in the AFL. I had a little bit of Carlton on the moneyline and some of the spread. Carlton was able to hang around with the Tigers for most of the game and trailed by just four points in the final quarter. The cover looked great, the moneyline was in play. This is why you stay up until ungodly hours.
Then, it all began to fall apart. Mere moments later the Tigers were on a 21-0 run, up 105-80. I was left to wonder what just happened. And then I felt some déjà vu. Just a few hours earlier I was sorting through similar emotions a world away on a completely different surface. Sports are beautiful.
There are plenty of AFL games left this weekend if I've enticed you to learn what it's all about, but my main reason for being here is to prepare you for Saturday's 12-game NHL slate, which begins at 1 p.m. ET with the Devils and Penguins.
Odds via DraftKings and current as of Friday night. Follow me on the Action App to see what I'm betting.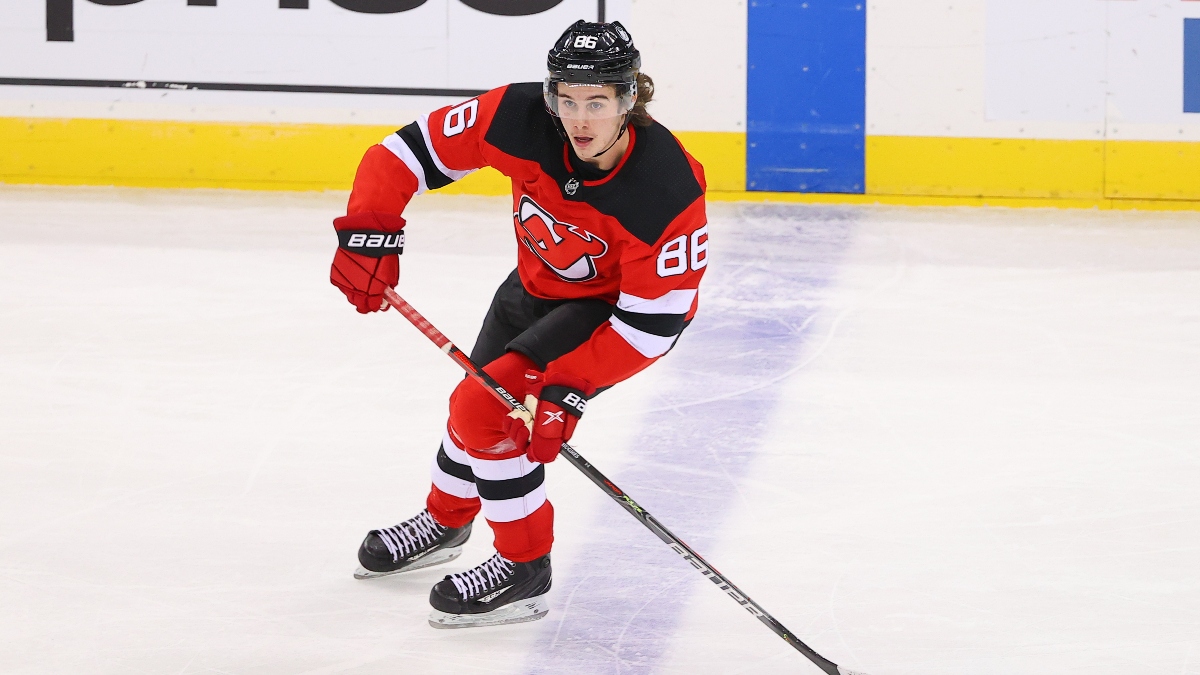 Early Games
Pittsburgh Penguins (-157) at New Jersey Devils (+133), 1 p.m. ET
Minnesota Wild (+145) at Colorado Avalanche (-175), 3 p.m. ET
The Pittsburgh Penguins are seemingly always battling injuries. Jason Zucker, Evgeni Malkin, Jared McCann and Teddy Blueger all were missing for the first game of this series on Thursday and none of them are expected to be back for Saturday. The New Jersey Devils also have some injury issues as starting goaltender Mackenzie Blackwood was a late scratch before New Jersey's 3-2 upset over the Pens on Thursday.
There's lots to keep your eye out for in this one, but I do have some betting interest in the Devils if this number rises a bit. The Penguins have improved their 5-on-5 play lately, but they're still not a terribly deep team and the injuries to their forward group exasperates that problem.
The Devils also lack depth and don't have the high-end talent that the Penguins boast, but when you look at these two current lineups side by side there's not anything that really jumps out to you outside of Pittsburgh's top line and pairing. Sidney Crosby, Jake Guentzel and Bryan Rust can wreck a game, but the Penguins will be trotting out Evan Rodrigues, Mark Jankowski and Frederick Gaudreau behind Crosby and their wingers are basically all checking-line caliber players.
It's been a good run of late for the Penguins but their expected goals rate on the season sits at an unimpressive 48.51%. That is good enough for 20th overall and just ahead of New Jersey, which ranks 21st at 48.21%. That isn't to say that the Devils are close to the Penguins' caliber, but it does show you that this matchup, especially with the lineup chaos, could be pretty close.
The Devils closed at +138 on Thursday night, so I'd imagine it will end up in that range again for Saturday. I think anything above +140 is worth a bet on New Jersey.
Expected goals (also known as xG) is a predictive statistic that gives an indication of whether results are based on sustainable factors like a steady creation of scoring chances, or whether it is down to aspects such as shooting luck or outstanding goaltending.
Simply put, an expected goals rate (xGF%) above 50% is considered good because it means a team is creating the majority of the scoring chances. Anything below 50% is usually a sign that a team is struggling to control play.
xG numbers cited from Evolving Hockey.
---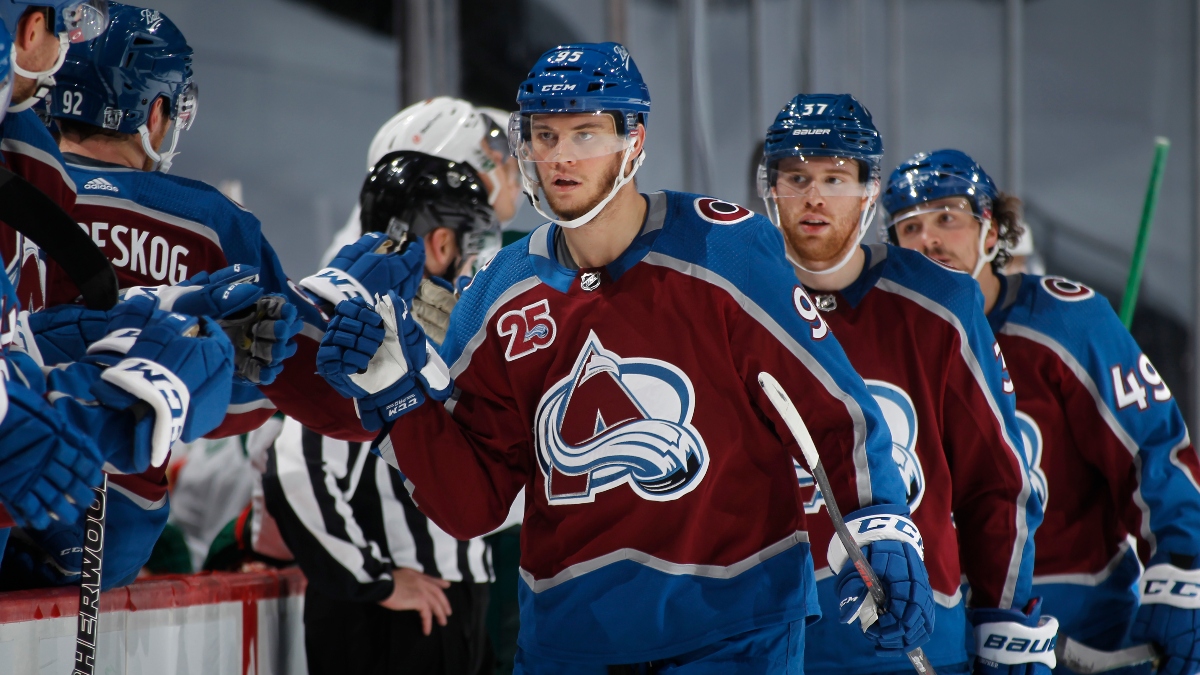 The Colorado Avalanche absolutely blitzed the Minnesota Wild on Thursday night, putting a stop to Minnesota's five-game winning streak while extending their own run to five games.
You can say that the Avs have not met expectations through the first two months of the season and from a win-loss perspective that's probably true, but there's more to the story as Colorado has been decimated by injuries. Only four players on the Avs roster (Nazem Kadri, Mikko Rantanen, Joonas Donskoi and Valeri Nichuskin) have appeared in all of Colorado's games this season and Jared Bednar has been forced to play 12 different defensemen through the first 28 games.
Despite all of that, Colorado is still 18-8-2, leads the NHL in expected goals rate and is second in expected goals against. This is still a juggernaut.
The Wild are not a behemoth like the Avs but they've shown themselves to be a legitimate contender in the first half of the season. Minnesota has been a terrific play-driving team for years, but the Wild could never get the goaltending or offense to make their 5-on-5 dominance stick. That has changed this season as Minnesota is scoring plenty of goals and getting decent netminding from Cam Talbot and Kaapo Kahkonen.
Minnesota's league-leading 103.3 PDO (shooting percentage + save percentage) is likely to come back down to earth, but that doesn't change the fact that this is a good team top-to-bottom. Minnesota is first in goal share, first in high-danger scoring chance rate and second in expected goal rate this season. Usually when you think about the Wild you think defense, but this is a different team. The Wild lead the league in goals scored and expected goals created at 5-on-5.
The Avs are the better team in this matchup but the Wild are so good at 5-on-5 that I think they are worth a look at these odds. I'd play Minnesota at +140 or better.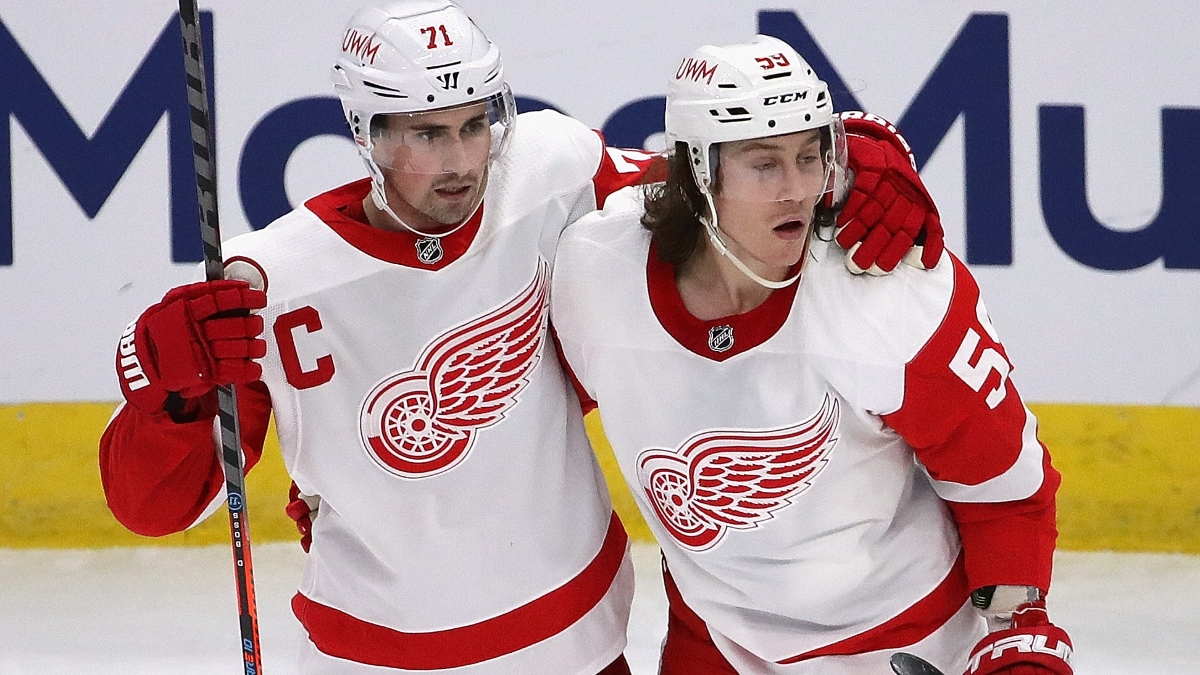 Main Slate
Dallas Stars (-200) at Detroit Red Wings (+163), 7 p.m. ET
Winnipeg Jets (+110) at Edmonton Oilers (-132), 10 p.m. ET
After making a run to the Stanley Cup Final last summer, the Dallas Stars have an uphill climb to just make the tournament in a weak division this season. Dallas is 24th in the NHL in points percentage and eight points (with five games in hand) behind Chicago for the last playoff spot in the Central Division.
The Stars' identity hasn't really shifted much from last season. They play elite defense but get very little support offensively. Dallas leads the NHL in xGA/60, ranks second in 5-on-5 goals allowed per 60, but is near the bottom of the circuit in goals for and xG created at even strength.
That formula can work, but only if the Stars get the goaltending necessary to make their meager offensive numbers stick. That hasn't been the case this season as Anton Khudobin and Jake Oettinger have combined for a -4.73 Goals Saved Above Expectation (GSAx) so far. Dallas' goaltending woes are important to note because Jonathan Bernier, Detroit's best goalie, is currently hurt. That means the struggling Thomas Greiss will likely get the call. That is a bit unsettling, but with Dallas' goalies stumbling at least that edge is somewhat negated.
The Stars may not be having a great season, but they are plenty better than the Red Wings. Detroit ranks 28th in points percentage, 28th in goal differential and 29th in goals per game. This should be a win for Dallas, but  everything in betting comes down to price and I think this number could end up high enough for a play on the Wings.
Dallas doesn't generate enough offense for me to be comfortable laying this kind of juice, and I'm happy to fade the Stars if the price is right. I think this number could bump up a bit, so you may catch a +170, but even at +165 I'd back the Wings to make it two in a row against the Stars.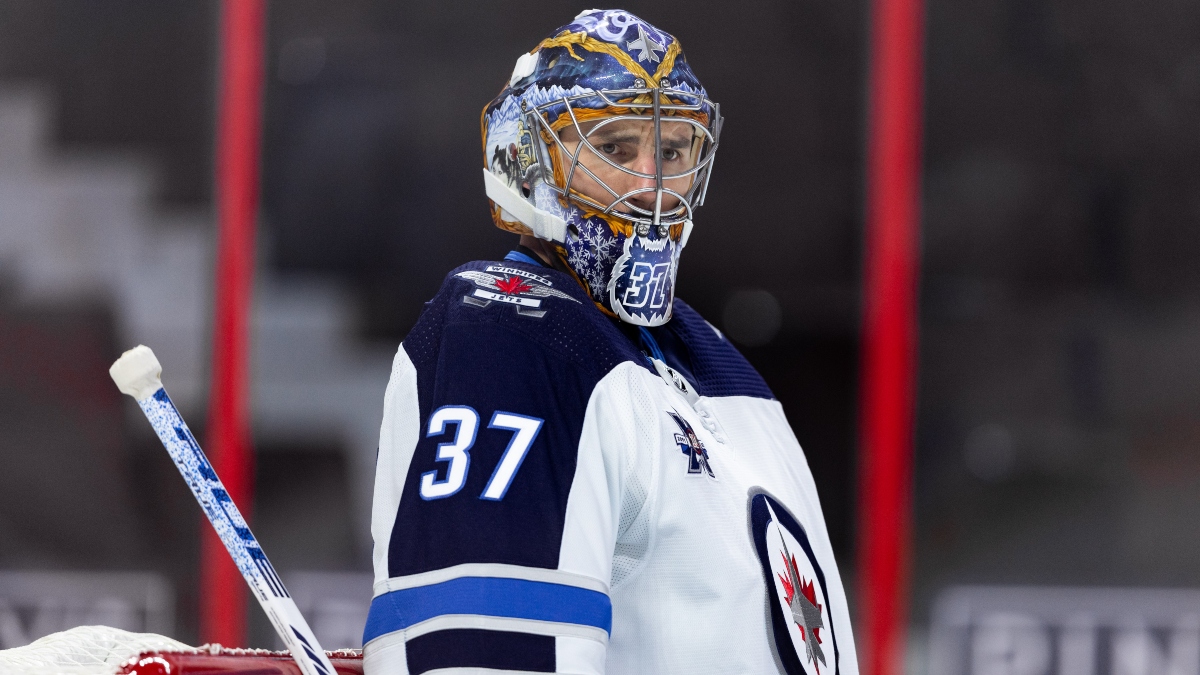 The Edmonton Oilers eked out a 2-1 victory over the Winnipeg Jets in a surprisingly composed battle on Thursday night. That game featured Mikko Koskinen in goal for Edmonton and Laurent Brossoit in net for Winnipeg. While both netminders played well, I expect the Jets will go back to their starter and reigning Vezina Trophy winner Connor Hellebuyck for Saturday night and the Oilers will turn to Mike Smith.
For the second season in a row, the Jets are near the bottom of the NHL in expected goals rate at 5-on-5 but they've somehow managed to skate to the 10th-best record in the NHL. At this point we can probably accept that the Jets will never be an analytics darling. Instead, we're left to wonder if Winnipeg is good enough to achieve big things despite a 46.6% expected goals rate.
Perhaps we just don't give the Jets enough credit for their talent. Pierre-Luc Dubois, Nicolaj Ehlers, Blake Wheeler, Paul Stastny, Kyle Connor and Mark Scheifele make up one of the league's most prolific top-sixes and they are backed up by a third line that has been a revelation for Paul Maurice this season.
Winnipeg's defense is still an unmade bed, but the goalie tandem behind that blueline is near the top of the league. Winnipeg's goaltending can pick up the team when the scoring goes cold and vice versa.
As expected, it's the offense that is doing the heavy lifting for Dave Tippett. The Oilers are generating 2.53 xG per hour at 5-on-5 (fourth overall) and scoring 2.74 goals per 60 at 5-on-5 (fifth) through 31 games. That type of offensive production means the Oilers can survive a defense that is leaking 2.45 xGA/60 and 2.52 GA/60.
I thought the Jets were a decent bet on Thursday night and will go back to them here. These two teams are pretty close. Edmonton has the game's best dynamic duo, but Winnipeg is a little deeper. Both clubs are flawed defensively, but it's Hellebuyck that gives the Jets the edge. At +110 or better I like the Jets on Saturday night.
How would you rate this article?