Arkansas State vs. Appalachian State Odds & Pick: Your Thursday College Football Betting Guide
Credit:
Peter Aiken/Getty Images. Pictured: Head coach Blake Anderson of the Arkansas State Red Wolves.
Arkansas State at Appalachian State Odds
Odds updated Thursday morning and via DraftKings. Get up to a $1,000 sign-up bonus at DraftKings today or see more offers and reviews for the best online sportsbooks.
---
The Arkansas State Red Wolves (3-2) and the Appalachian State Mountaineers face off in a Sun Belt Conference matchup Thursday night.
The Mountaineers have been idle for nearly one month, while the Red Wolves have won back-to-back games scoring 50 or more points in both contests. Will the Red Wolves' high-octane offensive showings continue? We break down the matchup and betting angles below.
---
Check out our free NCAAF odds page, which automatically surfaces the best line for every game.
---
Arkansas State Red Wolves
For every bit of praise for the Red Wolves offense, there is an equal knock on the defense. As a result, head coach Blake Anderson fired defensive coordinator David Duggan last Friday, Oct. 16. Duggan had served in the role since the beginning of 2019.
The numbers are not pretty for the Arkansas State defense. The Red Wolves rank 66th in rushing success rate and 65th against pass explosiveness, the combination of which has enabled plenty of opponents to stay in games. Georgia State scored seven touchdowns against Arkansas State in Week 7's Thursday night matchup, which led to Anderson's decision to make a coaching change.
---
The offense has been nothing but electric. The two-headed quarterback combination of Layne Hatcher and Logan Bonner each threw for at least 197 yards and three touchdowns against Georgia State.
Arkansas State loves the long ball, as both quarterbacks throw 20-plus yard passes at least 20% of the time with a minimum completion rate of 40%.
---

---
Wide receiver Johnathan Adams Jr. leads Arkansas State with 30 targets, but Dahu Green has a longer average pass distance at 17.8. Defending Arkansas State requires a stout back seven, as four wide receivers and tight end Reed Tyler have at least 10 targets.
---
Appalachian State Mountaineers
Will the Mountaineers be able to shake off the rust after not playing since a win against Campbell on Sept. 26? More importantly, can Appalachian State have a better defensive showing against dual threat quarterbacks?
Grant Wells of Marshall threw and ran for a touchdown in a victory over the Mountaineers, while Hajj-Malik Williams also ran for two scores for the Camels.
The Appalachian State defense ranks 41st in rushing success rate — a stark contrast to its fourth-place rank in defensive passing success rate. The Mountaineers defense has not been able to control the line of scrimmage, ranking 55th in line yards.
Linebacker D'Marco Jackson has a team-high seven missed tackles — versus nine successful tackles — over a 167-play sample this season. The Mountaineers pass defense is also in need of support from the pass rush: Appalachian State ranks 49th in sack rate.
However, both Nick Hampton and Demetrius Taylor have combined for 11 hurries without a sack. So, there is cause for optimism that the Mountaineers defense could achieve a breakthrough.
Betting Analysis & Picks
Editors Note: The forthcoming betting analysis and recommendation has been updated as of 11:20 a.m. ET in order to adapt to the current betting market.
If you are a trends player, then this game is an easy investment with Arkansas State at 4-1 against the number and Appalachian State at 0-3.
These teams have played each other just three times since 2014, with the visitor winning each game. Arkansas State is also on a streak of four straight overs — a result of a crumbling defense.
---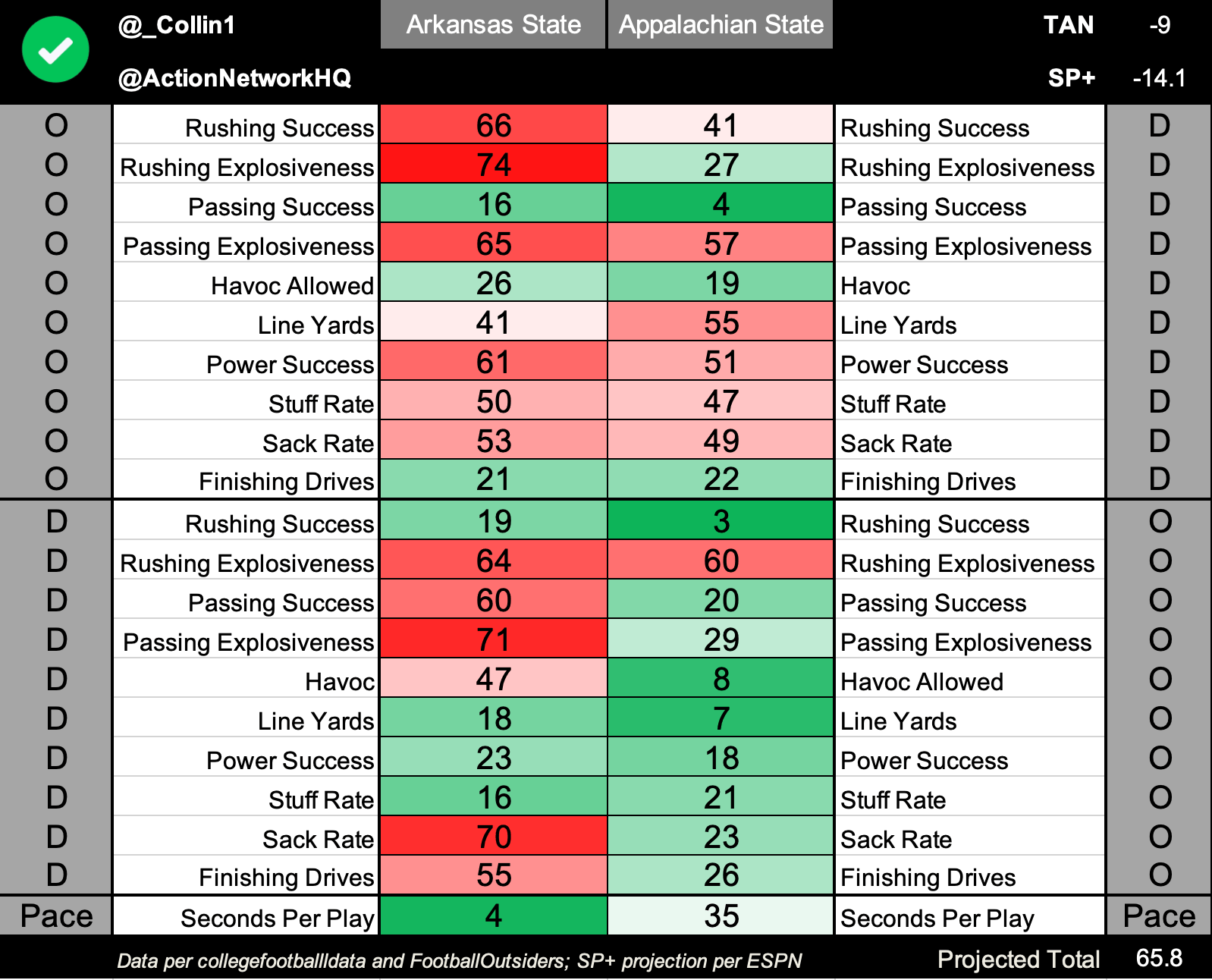 ---
Arkansas State has zero interest in running the ball, nor do Logan Bonner or Layne Hatcher have the wheels to attack the Mountaineers defense. The biggest handicap in this game is if Appalachian State has the pass defense to contain Arkansas State.
Marshall is a top-10 team in passing success rate, but consider that Appalachian State held the Herd to a 28% success rate on passing plays. Per Sport Source Analytics, Marshall was held to just one explosive drive.
---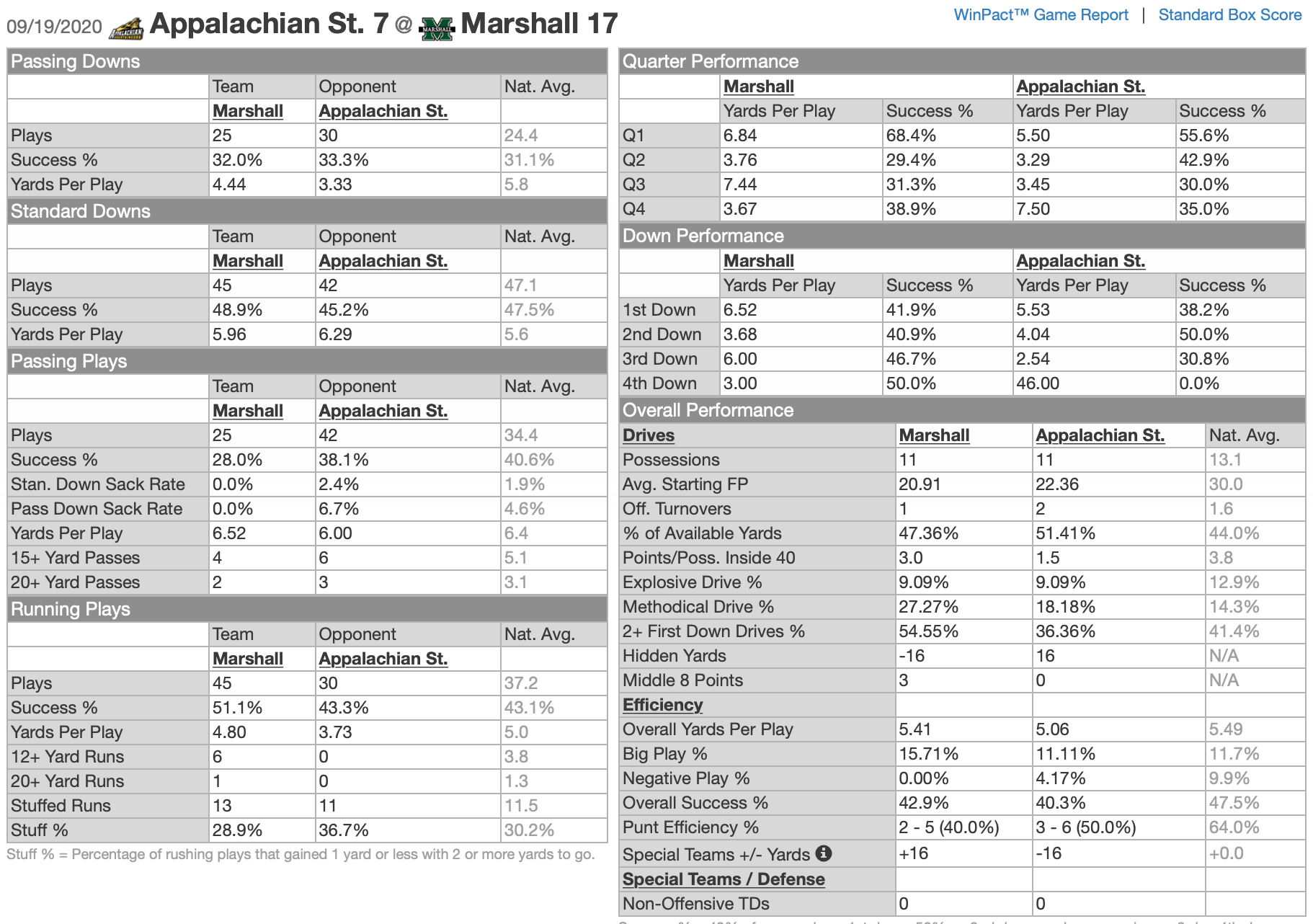 ---
Price point is uber important in this game, as The Action Network projection is Appalachian State -9. The Mountaineers were a buy at -10, but as the number steams to two touchdowns there should be sharp buyback on the Red Wolves in the market. Considering the strength of the Appalachian State defense is stopping the pass, taking the Mountaineers at -13 or better is the play.
The more this number moves, the less of an edge the line offers. That results in a lower-sized bet. But, once it hits 14 — as it has as of Thursday morning — bettors need to look at Arkansas State.
Our Pace Report projects 65.8 points in this contest, and the current game total sits between 68.5 and 69.5 across the betting market. Anything over 66 gives value to the Under, which I will probably hit if the total climbs to 70.
There should also be consideration for a first half under. The Mountaineers have not played in almost a month and may need a few drives on offense to get clicking.
The Red Wolves defense is under new management, with a focus on tackling fundamentals. No one will mistake Arkansas State for the 1985 Chicago Bears, but there could be enough stops to get an early under to the window.
Picks: Appalachian State -13 or better  |  Look at Arkansas State at +14  |  Full-Game Total under 70 or higher  |  First Half Under 35 or better
---
Never Bet Alone: Get live scores, live win probabilities on your bets, line move alerts and so much more with The Action Network app.
How would you rate this article?