Handicapping This Week's Three Tennis Tournaments
Credit:
© Geoff Burke-USA TODAY Sports
Time to live up to the high expectations after both Stuck and I started the year off by hitting our Australian Open futures. I realize the weeks in between Slams aren't sexy, but they usually provide the most value from a futures perspective. To be honest, these are the weeks tennis bettors love to grind through for most of the calendar year. It's time to officially replace your football fix with tennis betting and we will have you covered throughout the year with tournament previews and daily hitters.
After a few weeks down under, the ATP tour splits up for the next month. The indoor hard season kicks off in Europe and the clay "Golden Swing" plays out around South America. We need to cap three tournaments that start on Monday, which include the two indoor hard tourneys in Bulgaria (Sofia) and France (Montpellier). The season's first clay tournament in Ecuador (Quito) also requires our attention. This week is unique in that it follows Davis Cup, which means futures are posted later than usual. Check back in here late afternoon on Sunday, as I will update this piece accordingly. Having said that, I still want to set the stage and discuss who I am keying in on since two of these tourneys will start before those in the U.S. even wake up on Monday.
---
Defending Champs
Montpellier: Sascha Zverev (d.) Richard Gasquet
Quito: Victor Estrella Burgos (d.) Paulo Lorenzi
Sofia: Grigor Dimitrov (d.) David Goffin
I will obviously keep my eye on things down in Quito — or should I say "up" in Quito — where altitude (2,850m) has propelled veteran journeyman Victor Estrella Burgos to three consecutive titles. Since this tournament moved from Chile to Ecuador, Burgos hasn't lost. He boasts a perfect 15-0 record in the unique Quito conditions. It's really a remarkable story. Burgos first won the tourney in 2015, becoming the oldest player in ATP history to win his maiden title. Then, he backed it up with two more titles in 2016 and 2017. Back to back to back. The true King of Quito. The best part? He has never won another ATP title in his career.
However, with the late entries of Albert Ramos, Pablo Carreño, Gaël Monfils, and Alexander Dolgopolov, Burgos will need to peak more than he has ever peaked to win a fourth consecutive. If he does, someone needs to make a movie.
Meanwhile, in Sofia, we have a pretty grim field. Defending champ — and local favorite — Grigor Dimitrov backed out late, which cleared a spot for Stan Wawrinka. Not much else to really see in this field. I will say I was disappointed to hear that Hyeon Chung also dropped out late. I really wanted to see how he'd back up his Aussie Open breakthrough. Before getting to the potential futures value in France, let's take a closer look at the Sofia Draw.
Top Half
(1) Wawrinka vs. Bye
Q vs. (WC) Donski
(WC) Andreev vs. Istomin
Q vs. (6) Troicki
(4) Kohlschreiber vs. Bye
Stakhovsky vs. Q
Marterer vs. Jaziri
(WC) Kuzmanov vs. (7) Sousa
Bottom Half
(5) Haase vs. Copil
Đere vs. Kavčič
Youzhny vs. Seppi
Bye vs. (3) Müller
(8) Donskoy vs. Lacko
Q vs. Albot
Baghdatis vs. Kukushkin
Bye vs. (2) Mannarino
Not the most star-studded field.. At first glance, nothing jumps out as a potential future. Some might argue Frenchman Adrian Mannarino has a decent shot at winning his first ATP title, but his recent form doesn't inspire much confidence. He just lost this past weekend at Davis Cup in straight sets as -800 favorite to Thiemo de Bakker. In France. Yikes.
With veteran Marcos Baghdatis — who plays some of his best tennis on indoor hard courts —  and even Mikhail Youzhny hanging around the bottom half of the draw, I don't see much value. If I did have to pick a winner, though, hmmm — give me Kohlschreiber. He he has a light draw early and I think he has enough game to get past this version of Stan in the semis (if the Swiss gets that far).
Now, let's shift our attention to France, where Montpellier has attracted a pretty talented field ahead of the Open Sud de France.
---
OPEN SUD DE FRANCE
Montpellier, France | February 5th – February 11th
Site:

 Arena Montpellier

Surface:

 Indoor Hard

Balls:

 Head ATP

Prize Money:

 €501,345
Form Check
David Goffin
Lucas Pouille ↓
Jo-Willy Tsonga
Damir Dzumhur
Richard Gasquet
Top Half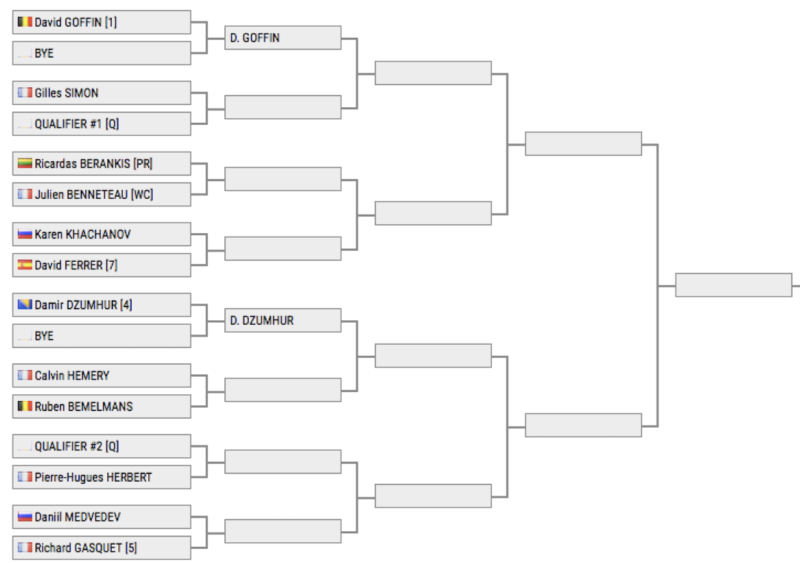 Top Half
David Goffin and three-time Montpellier champion Richard Gasquet headline this section that also features veterans Gilles Simon, Julien Benneteau and David Ferrer. NextGen stars Karen Khachanov and Daniil Medvedev could also potentially make noise in this half.
I see this part of the draw playing out in a straightforward manner, as Goffin and Gasquet should advance to the semis. Gasquet, who recently needed four sets to get through Robin Haase at Davis Cup, has looked on-form of late. As for Goffin, he has historically fared well in these early season indoor hard tourneys. Remember, he made the final here at Sofia last year.
As far as potential dark horses, keep your eye on Benneteau. If he gets through Ricardas Berankis and then Khachanov (or Ferrer), he could potentially cause trouble for Goffin. Benneteau has given Goffin fits in the past (3-1 head to head), including his most recent triumph over the World No. 7 in Melbourne. Also, watch out for Damir Dzumhur, who showed top 25 form at the end of last year. Despite stumbling out of the gates in 2018, this tournament could present a nice spot for him to right the ship. If he finds his form, his game could cause issues for Gasquet in a potential third round clash.
Bottom Half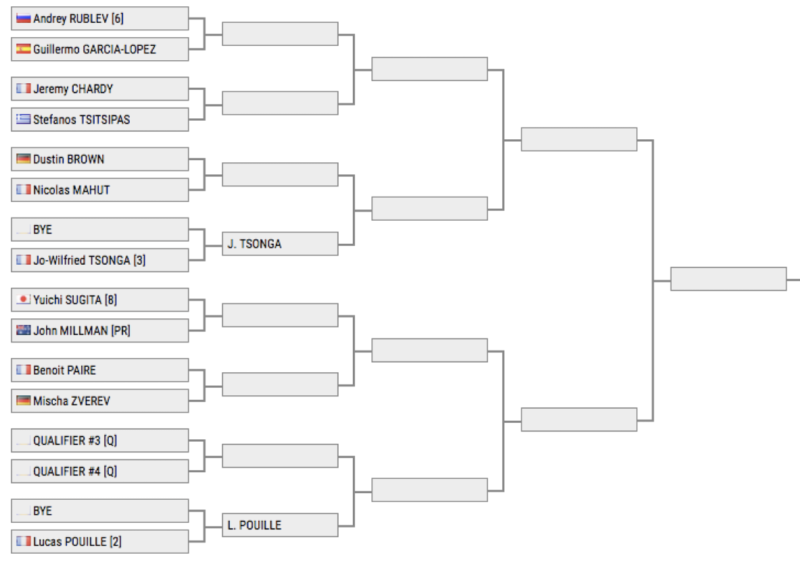 In this part of the draw, we find the formidable Frenchman Jo-Willy Tsonga — as well as compatriot Lucas Pouille. Also, do not forget about young gun Andrey Rublev. While I normally would fancy Tsonga — given his incredible indoor track record and crowd support — he simply isn't fit at the moment. France held Jo out of Davis Cup last weekend due to a hampered knee. Given the injury risk, I simply can't roll the dice with the amount of talent in his section.
Instead, I am focusing in on Pouille and Rublev to make a run in Montpellier. They actually have similar games. They both play very big, but have dealt with consistency issues. Pouille, coming off a first-round exit in Melbourne, is an established indoor hard player. He won a title last year in Vienna on similar conditions (came through Gasquet and Tsonga) and possesses the class of a top 10 player. He actually has flirted with that level at points over the past two years and I think this sets up as a great spot for one of his "hot streaks." The conditions will suit him, the draw looks favorable (first round bye then a qualifier), and the home crowd will have his back.
In regards to Rublev, his path could really open up if Tsonga has knee issues. I think Rublev gets through Guillermo García-López in the first round and then either Jérémy Chardy or Stefanos Tsitsipas. Things will really open up for Rublev if a hampered Tsonga (who might not even get there) awaits him in the third round. He certainly has the game to take Jo out. Don't pay attention to the small sample size indoor record (0-4) last year. The young Russian has the perfect game for these conditions.
Having said that, I give the edge to the Pouille given the draw, crowd, and conditions. Vive la France.
---
Predicted Semifinal
(1) Goffin vs. (5) Gasquet
(6) Rublev vs. (2) Pouille
Projected Winner
Lucas Pouille (waiting on the release of his odds to win the tourney)
---
Stuckey Says
Fed Cup week, which means no WTA tourneys. Don't worry though, as the true grind starts next Sunday all the way through September. CAN'T WAIT.
P.S. Shout out to Jana Fett.