Koerner's Week 13 Fantasy Football Tiers: Rankings for QB, RB, WR, TE, More
Credit:
USA Today Sports. Pictured: Jaguars RB Leonard Fournette (27), Chiefs QB Patrick Mahomes (15), Packers WR Davante Adams (17).
Need help making start vs. sit decisions? Sean Koerner separates his Week 13 fantasy football rankings into tiers.
Below you'll find his comprehensive strategy for every position -- QBs, RBs, WRs, TEs, kickers and defenses.
With Thanksgiving breaking up the schedule a bit, there are three games on Thursday in Week 13 and several potentially high-scoring games on Sunday. With every team off bye this week, there will be no shortage of studs available.
Consider these tiers a visualization of my early-week rankings. There will be a ton of volatility in how I adjust my rankings up until kickoff, so as always, be sure to check my updated rankings before making final sit/start decisions.
And if you're looking for streaming advice, you can find my favorite streamers here.
---
Go To: QB | RB | WR | TE | K | DEF
---
Week 13 Fantasy Football Tiers
Quarterbacks
Tier 1
Patrick Mahomes (vs. OAK)
Lamar Jackson (vs. SF)
I have a two-way tie for QB1 in my projections as of right now. This is pretty remarkable given just how good Mahomes' matchup is against a Raiders defense that has allowed the second-highest rate of explosive plays.
While Jackson has a brutal matchup against the 49ers' shutdown defense, he has already proven to be matchup proof with a solid performance against the Patriots.
Kyler Murray put up respectable numbers against the Niners' defense in Weeks 9 and 11, which makes me think Jackson can lean on his rushing ability this week to continue his hot streak.
It's worth noting that due to three-straight blowouts, Jackson has essentially sat out the fourth quarter of three games. He's putting up these eye-popping numbers by only playing 75% of the game lately.
Tier 2
Russell Wilson (vs. MIN)
Dak Prescott (vs. BUF)
Aaron Rodgers (@ NYG)
Drew Brees (@ ATL)
Prescott and Rodgers should both have bounce back games this week after brutal Week 12 matchups. The Bills are a run funnel defense that could cap Prescott's upside this week a bit, but he is still one of the safest weekly bets to make at quarterback.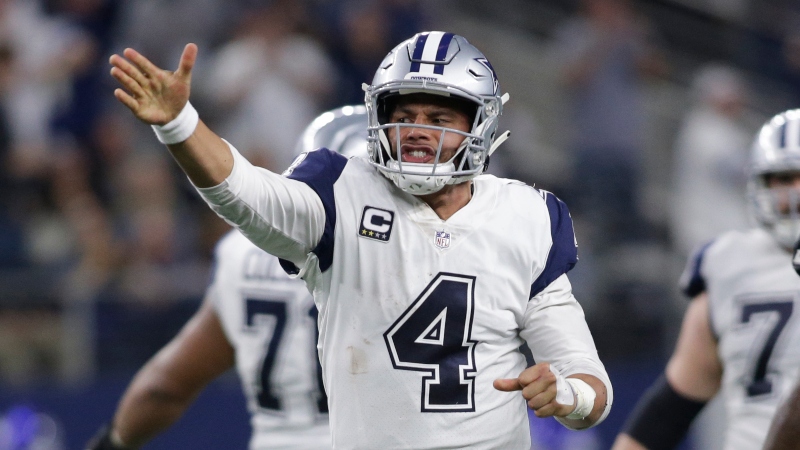 Rodgers has just missed Davante Adams with a few deep shots over the past few games. I'm thinking they finally connect on a couple this week and I am very interested in a Rodgers/Adams stack this week in DFS.
Tier 3
Carson Wentz (@ MIA)
Jameis Winston (@ JAX)
Kyler Murray (vs. LAR)
Wentz begins the week on the injury report with a hand injury. He has been labeled as day-to-day by Doug Pederson, which has often meant week-to-week in the past. However, this does appear minor enough so we can expect him to play this week.
The Eagles cut Jordan Matthews, which makes me believe they expect Alshon Jeffrey or Nelson Agholor to return this week.
This sets up for the perfect slump buster matchup for Wentz and the Eagles passing game. I have been stressing for the past several weeks that the Eagles had a brutal stretch on their schedule, but it's going to open up the rest of the way.
Tier 4
Deshaun Watson (vs. NE)
Nick Foles (vs. TB)
Matt Ryan (vs. NO)
Foles is my top quarterback streamer this week. The Bucs are the ultimate pass funnel defense and Foles has plenty of weapons to take advantage of the matchup. He really needs to have a big game here to silence the critics that have been calling for Gardner Minshew to take the starting job back.
Watson has the worst possible matchup this week against the Patriots. The fact that he has three solid receivers in DeAndre Hopkins, Will Fuller and Kenny Stills can help him overcome a tough matchup like this, though.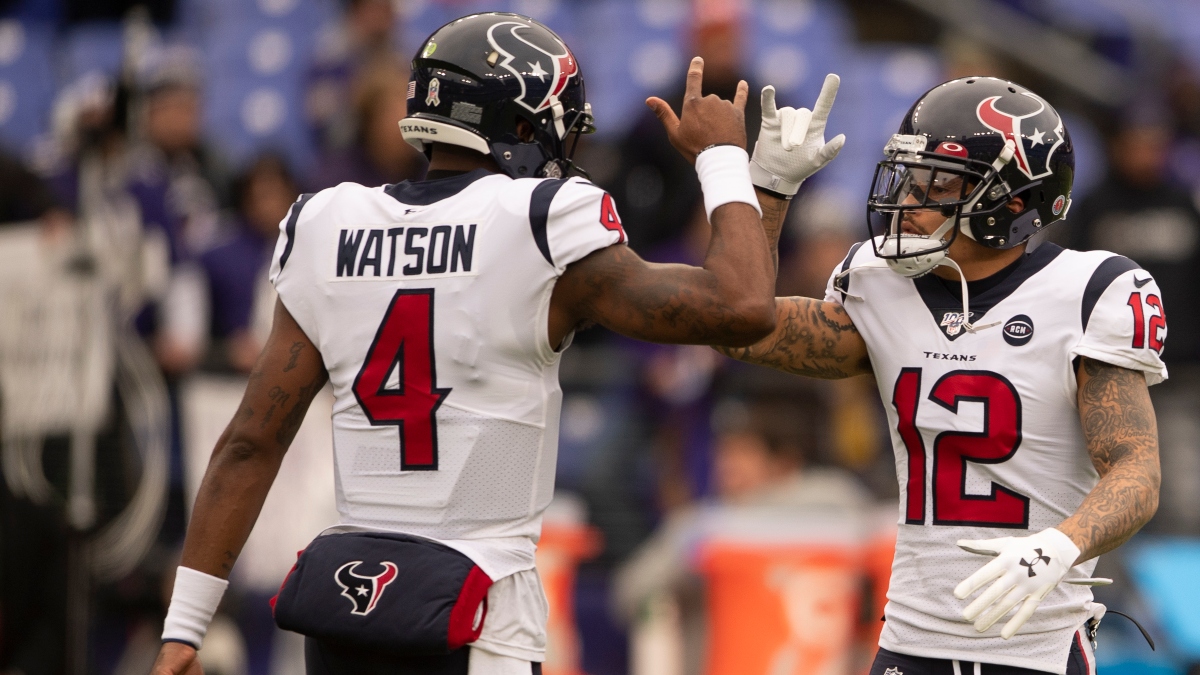 His rushing ability allows him to keep a fairly high floor this week which keeps him in the QB1 discussion, we just need to lower our expectations with him this week.
Tier 5
Josh Allen (@ DAL)
Jared Goff (@ ARI)
Jacoby Brissett (vs. TEN)
Kirk Cousins (@ SEA)
Tom Brady (@ HOU)
Sam Darnold (@ CIN)
Now scoreless in three-straight games, Goff's stock has hit rock bottom. This is the ideal matchup for him to bounce back, but he is by no means a must start.
If you want to settle for a quarterback with a little less uncertainty like Brissett/Cousins/Darnold I won't blame you. Darnold has a great matchup this week against the Bengals.
With Cincinnati going back to Andy Dalton this week over rookie Ryan Finley, it only helps Darnold's outlook as the Bengals are more likely to keep it close and allow Darnold to keep his foot on the gas for the entire game.
Tier 6
Kyle Allen (vs. WAS)
Derek Carr (@ KC)
Ryan Tannehill (@ IND)
Baker Mayfield (@ PIT)
Daniel Jones (vs. GB)
Philip Rivers (@ DEN)
I would only want to be starting quarterbacks from this league in 2QB/Superflex formats. Mayfield predictably had a breakout game last week against the Dolphins.
He will have much tougher sledding this week against the Steelers, which will be a very low scoring, intense game after their Thursday night brawl two weeks ago.
Don't chase points from Week 12 with Allen and Tannehill this week if you can help it. They are better left on your bench or the waiver wire this week.
Tier 7
Ryan Fitzpatrick (vs. PHI)
Jimmy Garoppolo (@ BAL)
Jeff Driskel (vs. CHI)
Andy Dalton (vs. NYJ)
Mitchell Trubisky (@ DET)
Garoppolo has been the QB5 over the past four weeks, in large part to an easier stretch of their schedule where they played the Cardinals twice. He is going to be off my radar this week at Baltimore.
Driskel is suffering from a hamstring injury, which is devastating to his fantasy stock. He's been sort of a poor man's Josh Allen in his three starts with rushing totals of 37/51/63 yards. If he's unable to scramble as much due to his hamstring, he will be nothing more than a low end QB2/3.

Tier 8
Devlin Hodges (vs. CLE)
Brandon Allen (vs. LAC)
Dwayne Haskins (@ CAR)
---
Running Backs
Tier 1
Christian McCaffrey (vs. WAS)
CMC has averaged 31.1 fantasy points in the Panthers' five wins this season verses 24.2 in their six losses. The Panthers are 10-point favorites this week.
Tier 2
Dalvin Cook (@ SEA)
Ezekiel Elliott (vs. BUF)
Leonard Fournette (vs. TB)
I mentioned earlier that the Bucs are the ultimate pass funnel matchup. Fournette should be able to overcome the tough matchup on the ground by continuing to be heavily involved in the passing game. He has now averaged eight receptions per game in the two starts by Foles.
I would say seven of Fournette's nine receptions last week were Foles' first read. He will continue to crush in PPR formats this week and I've been calling for positive touchdown regression here the past several weeks and we finally saw it with a two touchdown performance in Week 12.
Don't expect him to have another scoring drought of two games or more the rest of the way.
Tier 3
Alvin Kamara (@ ATL)
Saquon Barkley (vs. GB)
Nick Chubb (@ PIT)
Barkley has been struggling the past few weeks. Last week he dropped what looked like a potential 53-yard touchdown catch-and-run.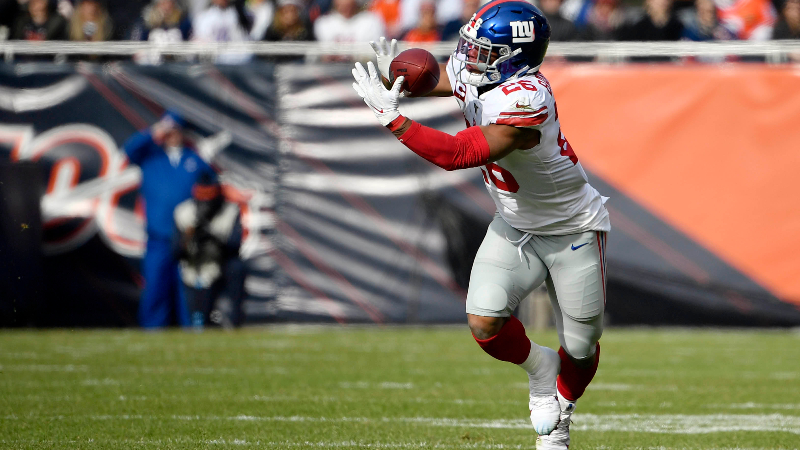 He is a generational talent that can only be contained for so long. The Packers are beatable on the ground, which means we could see him get back on track this week.
Tier 3
Le'Veon Bell (@ CIN)
Todd Gurley (@ ARI)
Derrick Henry (@ IND)
Aaron Jones (@ NYG)
Josh Jacobs (@ KC)
Melvin Gordon (@ DEN)
Bell is sort of in his own mini tier this week in a potential smash spot against the Bengals.
Henry was in an obvious smash spot last week and came through. We need to lower our expectations this week with him. The Colts have a much better run defense than the Jaguars and as 3-point dogs this week, the Titans could fall behind in this matchup which would hurt Henry's outlook.
Tier 4
Jonathan Williams (vs. TEN)
Devin Singletary (@ DAL)
Phillip Lindsay (vs. LAC)
Chris Carson (vs. MIN)
Mark Ingram (vs. SF)
David Montgomery (@ DET)
Marlon Mack is out again this week. Now that Williams has proven to be the Colts lead back in the meantime, he is high end RB2 this week against the Titans. Heading into Week 11 the Broncos hinted that they wanted to make Lindsay more of a true workhorse.
They have done just that, giving Lindsay 32 touches to Freeman's 13 the past two games. We haven't seen this translate into much box score production yet, but Lindsay's fantasy stock is on the rise.
Carson's fumbling issues came back to haunt him in Week 12 as he fumbled back-to-back carries, lost the second one. Rashaad Penny then proceeded to go bonkers for a 14/129/1 line on the ground.
This is a situation that I will monitor closely, but it doesn't sound like Pete Carrol is shutting down the idea of getting Penny more involved. Carson is a very shaky RB2 this week as a result.
Tier 5
Sony Michel (@ HOU)
Austin Ekeler (@ DEN)
Joe Mixon (vs. NYJ)
Miles Sanders (@ MIA)
Devonta Freeman (vs. NO)
Benny Snell (vs. CLE)
Jamaal Williams (@ NYG)
Kenyan Drake (vs. LAR)
Damien Williams (vs. OAK)
Tarik Cohen (@ DET)
Ronald Jones (@ JAX)
I'm projecting Jordan Howard to return this week, however, if he is ruled out, Sanders could shoot up a tier. We have yet to see him put it all together this year, but a matchup against the Dolphins could be just what he needs to make it happen.
Snell took over the two-down role for the Steelers last week with a 21/98/0 game on the ground. We should expect him to continue that sort of work while Jaylen Samuels will be the pass-catching back until James Conner is able to return.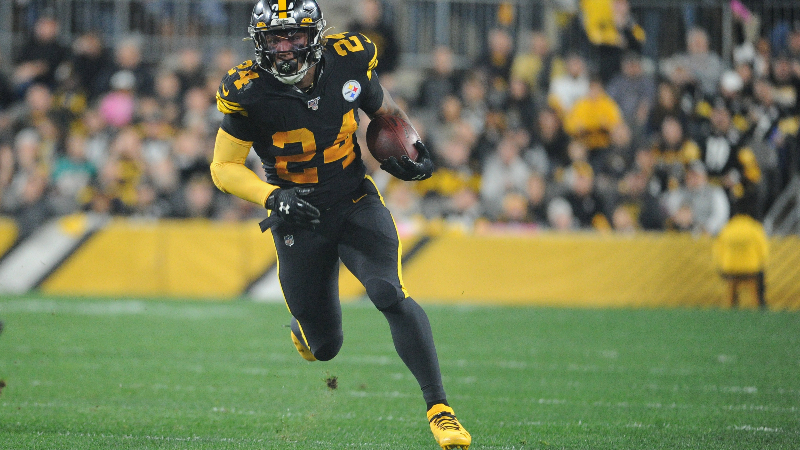 Jones is a sneaky play this week against a Jaguars defense that has been torched by opposing backs since Marcel Dareus was placed on injured reserve back in Week 8. They have allowed four separate running backs to rush for 100 yards or more in the past three games.
Tier 6
Bo Scarbrough (vs. CHI)
Tevin Coleman (@ BAL)
Kareem Hunt (@ PIT)
Carlos Hyde (vs. NE)
Jordan Howard (@ MIA)
James White (@ HOU)
David Johnson (vs. LAR)
The Cardinals have been trolling us by having Johnson active on game day, but he is clearly too injured to play. If you own him there is no way you can trust him in your lineups right now.
We will need to hear some positive reports on his health coming out of their Week 12 Bye before we can take that leap of faith. This is a situation we will need to monitor closely this week.
Tier 7
Latavius Murray (@ ATL)
Nyheim Hines (vs. TEN)
Jaylen Samuels (vs. CLE)
Royce Freeman (vs. LAC)
Rashaad Penny (vs. MIN)
Derrius Guice (@ CAR)
LeSean McCoy (vs. OAK)

Peyton Barber (@ JAX)
Adrian Peterson (@ CAR)
Penny should be scooped up off the waiver wire if he is still out there. We might not be able to trust him in our lineups this week, especially if you are fighting for a playoff spot.
But if you have a playoff spot locked up and room on your bench, Penny could be a potential league winner if he takes the starting job away from Carson down the stretch.
---
Wide Receivers
Tier 1
Michael Thomas (@ ATL)
Thomas has logged either nine receptions, 100 or more yards or a touchdown in all but one game this season.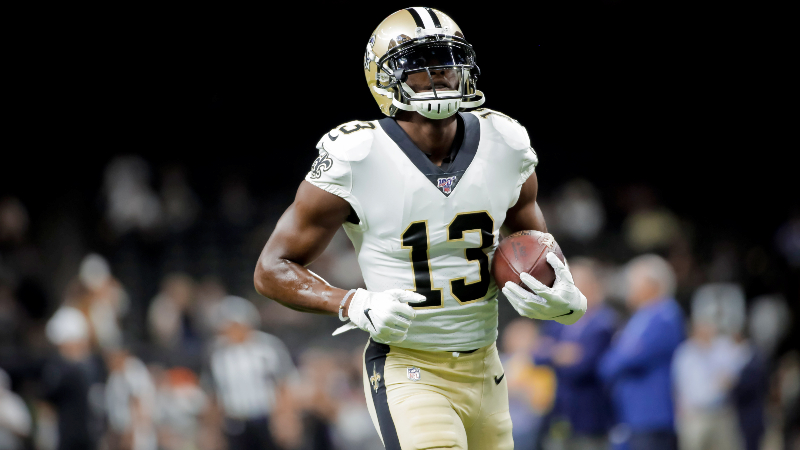 Oh and that one game he went for 8/89/0. His weekly floor/ceiling combo has been remarkable.
Tier 2
Tyreek Hill (vs. OAK)
Mike Evans (@ JAX)
Davante Adams (@ NYG)
Chris Godwin (@ JAX)
Julio Jones (vs. NO)
DeAndre Hopkins (vs. NE)
Tyreek Hill benefited from a timely bye week after pulling his hamstring in Week 11. It's the type of injury that comes with a scary low floor (think Adam Thielen Week 9). If he appears 100% ready to go this week, he would likely be in Tier 2 all by himself.
Jones is dealing with a shoulder injury that could affect his Week 13 outlook given the short week. It's wise to start making backup plans just in case, but he is tentatively expected to play.
Hopkins could see the Stephon Gimore treatment this week, so we need to lower our expectations considerably, but not to the point of benching him of course.
Tier 3
D.J. Chark (vs. TB)
D.J. Moore (vs. WAS)
Amari Cooper (vs. BUF)
Keenan Allen (@ DEN)
Tyler Lockett (vs. MIN)
Julian Edelman (@ HOU)
Moore, along with Fournette, was a player who was long overdue to score a touchdown and managed to score twice in Week 12. He has been on absolute fire lately and has another great matchup against the Redskins this week.
Cooper was neutralized in Week 12 due to brutal weather and Gilmore's shut down coverage. He has another tough draw this week against Tre'Davious White, but I'm still viewing him as a low end WR1 here.
Tier 4
Cooper Kupp (@ ARI)
Odell Beckham (@ PIT)
Jarvis Landry (@ PIT)
Week 12 was positive touchdown regression week for Odell Beckham Jr. who was long overdue for a score. He was outdone by Landry yet again who dropped a 10/148/2 game against his former team.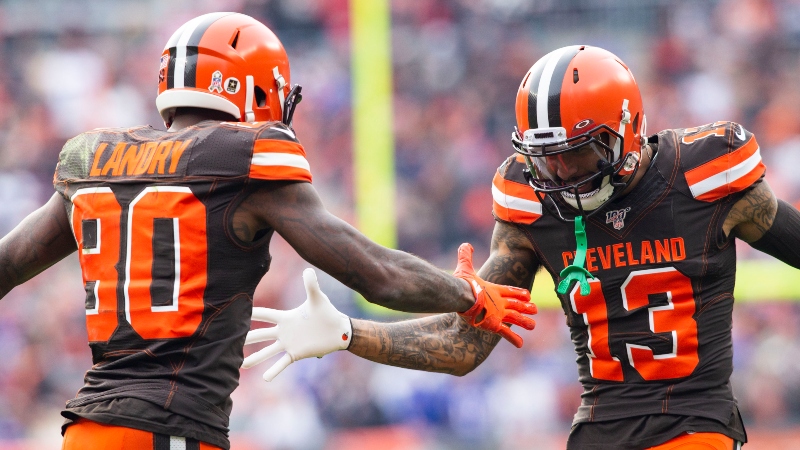 Both receivers are in a dead heat in my projections right now.
Tier 5
Calvin Ridley (vs. NO)
Allen Robinson (@ DET)
T.Y. Hilton (vs. TEN)
DeVante Parker (vs. PHI)
Christian Kirk (vs. LAR)
Tyrell Williams (@ KC)
John Brown (@ DAL)
Stefon Diggs (@ SEA)
Michael Gallup (vs. BUF)
Parker needs to be viewed as a top 20 WR this week. He has stepped up big time since Preston Williams was placed on IR three weeks ago.
Over his past three games, Parker has the eighth-most air yards and is Fitzpatrick's clear No. 1 target. Facing a pass funnel defense like the Eagles this week will only force them to throw the ball even more this week.
Tier 6
Brandin Cooks (@ ARI)
Courtland Sutton (vs. LAC)
Terry McLaurin (@ CAR)
D.K. Metcalf (vs. MIN)
Robert Woods (@ ARI)
Tyler Boyd (vs. NYJ)
Alshon Jeffery (@ MIA)
Adam Thielen (@ SEA)
Jamison Crowder (@ CIN)
Dede Westbrook (vs. TB)
Curtis Samuel (vs. WAS)
Kenny Golladay (vs. CHI)
Deebo Samuel (@ BAL)
Sutton and McLaurin both continue to be held back by poor quarterback play. Their tough draws this week lower them to WR3 range this week. Boyd managed to go off for 5/101/1 last week, but should still see a bit of boost with the Bengals going back to Dalton this week.
Jeffery and Thielen could see their ranks go up/down later this week based on practice reports and how healthy we should expect them to be this week. It'll be key to check my updated rankings before making any sit/start decisions involving those two wide outs.
Tier 7
Marquise Brown (vs. SF)
Marvin Jones (vs. CHI)
Juju Smith-Schuster (vs. CLE)
Sammy Watkins (vs. OAK)
Will Fuller (vs. NE)
Mike Williams (@ DEN)
A.J. Brown (@ IND)
Randall Cobb (vs. BUF)
Golden Tate (vs. GB)
Larry Fitzgerald (vs. LAR)
Emmanuel Sanders (@ BAL)
Chris Conley (vs. TB)
James Washington (vs. CLE)
Robby Anderson (@ CIN)
Hollywood Brown has a brutal matchup this week, but I would lean towards starting him as your WR3/Flex. He's had a roller coaster of a season, but I have been banging the table for him as being a potential high-end WR2 to close out the season.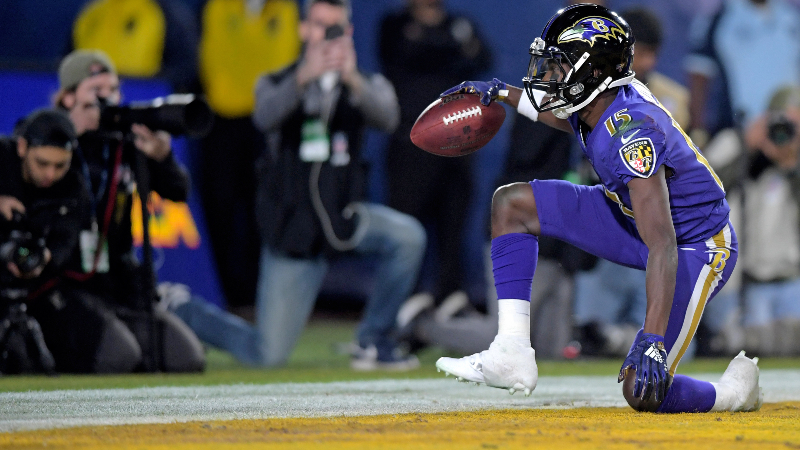 Fuller could be a sneaky play this week depending on how the Patriots decide how they will cover the Texans' wide receiver trio. He is coming off of a monster 7/140/0 game so it'll be tough to sit him this week.
As always, if you are a pretty big favorite in your matchup I would lean towards a safer bet like a Cobb/Tate (especially in PPR) and if you are a bigger underdog, you will want to use Fuller's high ceiling/low floor combo to your advantage and roll the dice with him.
Conley, Washington, and Anderson are all great options if you want to take a swing for some high upside plays in your Flex slot this week.
Tier 8
Cole Beasley (@ DAL)
Mohamed Sanu (@ HOU)
Alex Erickson (vs. NYJ)
Phillip Dorsett (@ HOU)
Corey Davis (@ IND)
Allen Hurns (vs. PHI)
Anthony Miller (@ DET)
Auden Tate (vs. NYJ)
Sterling Shepard (vs. GB)
Demaryius Thomas (@ CIN)
Russell Gage (vs. NO)
Darius Slayton (vs. GB)
Diontae Johnson (vs. CLE)

Tier 7 is loaded with upside, while Tier 8 is surprisingly full of fairly safe WR4/Flex type receivers. We can expect most of these wide out's to snag up to five balls this week, but not much more.
Cole Beasley is the most intriguing option this week as he has the #RevengeGame narrative at Dallas on Thanksgiving. He has at least 70 yards or a touchdown in five of his past six games. You could do worse with a wide receiver flier this week.
---
Tight Ends
Tier 1
Travis Kelce (vs. OAK)
Kelce has been heating up at just the right time heading into the fantasy playoffs. The Raiders have allowed the second-most touchdowns to the position this year. Kelce should feast on them this week.
Tier 2
Zach Ertz (@ MIA)
Hunter Henry (@ DEN)
George Kittle (@ BAL)
Kittle has been playing through a broken bone in his ankle. His fantasy owners are definitely thankful for his ability to gut it out and play at a high level despite being far less than 100%. Even 70%, Kittle is still better than most tight ends.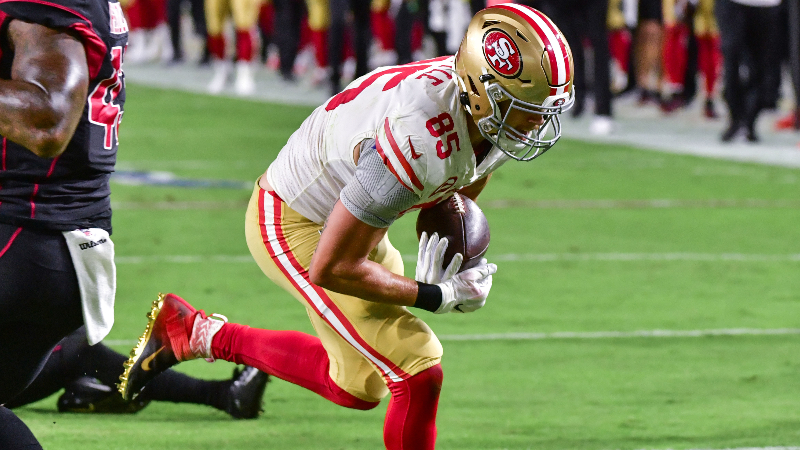 Tier 3
Darren Waller (@ KC)
Mark Andrews (vs. SF)
Evan Engram (vs. GB)
Jared Cook (@ ATL)
Greg Olsen (vs. WAS)
This position has been hit hard with bye weeks and injuries this month, but Tier 3 shows just how loaded the position is this week. Engram is looking like he will return Week 13, but it's worth having a backup plan ready just in case he can't go again.
Waller has been in a bit of a slump of late, but he should bust out of it this week at Kansas City. Hunter Renfrow suffered a multi-week injury which could actually benefit Waller with about two more targets a game while he is out.
Renfrow has seen about five targets out of the slot most weeks, but the Raiders don't have a receiver they can replace him with who would command as much of a target share. This is why I'm anticipating Carr to just look Waller's way that much more this week.
Tier 4
Dallas Goedert (@ MIA)
Gerald Everett (@ ARI)
Jacob Hollister (vs. MIN)
Jack Doyle (vs. TEN)
Ryan Griffin (@ CIN)
Eric Ebron was placed on IR this week which makes Doyle a viable streamer for Week 13. He has been fairly steady this year even with splitting time with Ebron.
Three or more receptions in eight of their past nine games is the very definition of steady for a tight end outside of the top 10. We should only expect his floor/ceiling combo to rise as he will see even more targets going forward.
Tier 5
Noah Fant (vs. LAC)
Kyle Rudolph (@ SEA)
Michael Gesicki (vs. PHI)
Vance McDonald (vs. CLE)
Jimmy Graham (@ NYG)
Irv Smith (@ SEA)
Take your pick of high upside young tight ends or trusty old veterans in this tier. I've been banging the table for Fant the past few weeks, but with Derwin James returning from IR this week, expect their defense to improve a ton as a result, especially with tight end coverage.
I have my eye on Gesicki as my top streamer at the position this week.
He has run a route on 87% of dropbacks the past three weeks (which is Kelce/Ertz territory), which gives him a ton of upside this week against the Eagles. The Dolphins should be forced to throw a bit more against their pass funnel defense and bankable second half garbage time.
Tier 6
Dawson Knox (@ DAL)
Jason Witten (vs. BUF)
Blake Jarwin (vs. BUF)
Darren Fells (vs. NE)
Tyler Eifert (vs. NYJ)
Jaeden Graham (vs. NO)
Delanie Walker (@ IND)

OJ Howard (@ JAX)
David Njoku (@ PIT)
T.J. Hockenson (vs. CHI)
Tyler Higbee (@ ARI)
Nick Boyle (vs. SF)
Jonnu Smith (@ IND)
Ben Watson (@ HOU)
Nick O'Leary (vs. TB)
---
Kickers
Tier 1
Harrison Butker (vs. OAK)
Wil Lutz (@ ATL)
Justin Tucker (vs. SF)
Jake Elliott (@ MIA)
Mason Crosby (@ NYG)
Tier 2
Jason Myers (vs. MIN)
Greg Zuerlein (@ ARI)
Josh Lambo (vs. TB)
Brett Maher (vs. BUF)
Nick Folk (@ HOU)
Joey Slye (vs. WAS)
Matt Gay (@ JAX)
Adam Vinatieri (vs. TEN)
Dan Bailey (@ SEA)
Zane Gonzalez (vs. LAR)
Tier 3
Daniel Carlson (@ KC)
Younghoe Koo (vs. NO)
Ryan Succop (@ IND)
Ka'imi Fairbairn (vs. NE)
Eddy Pineiro (@ DET)
Sam Ficken (@ CIN)
Michael Badgley (@ DEN)
Matt Prater (vs. CHI)
Aldrick Rosas (vs. GB)
Austin Seibert (@ PIT)

Tier 4
Steven Hauschka (@ DAL)
Chase McLaughlin (@ BAL)
Chris Boswell (vs. CLE)
Randy Bullock (vs. NYJ)
Brandon McManus (vs. LAC)
Jason Sanders (vs. PHI)
Dustin Hopkins (@ CAR)
---
Defenses
Tier 1
Carolina Panthers (vs. WAS)
Philadelphia Eagles (@ MIA)
Chicago Bears (@ DET)
Tier 2
Los Angeles Chargers (@ DEN)
New York Jets (@ CIN)
Green Bay Packers (@ NYG)
Jacksonville Jaguars (vs. TB)
Detroit Lions (vs. CHI)
Cleveland Browns (@ PIT)
Tier 3
Dallas Cowboys (vs. BUF)
New England Patriots (@ HOU)
Indianapolis Colts (vs. TEN)
Los Angeles Rams (@ ARI)
Denver Broncos (vs. LAC)
Baltimore Ravens (vs. SF)
Tier 4
Pittsburgh Steelers (vs. CLE)
New Orleans Saints (@ ATL)
Cincinnati Bengals (vs. NYJ)
Washington Redskins (@ CAR)
Tier 5
Kansas City Chiefs (vs. OAK)
Tampa Bay Buccaneers (@ JAX)
Seattle Seahawks (vs. MIN)
Arizona Cardinals (vs. LAR)
Tennessee Titans (@ IND)
Tier 6
Houston Texans (vs. NE)
San Francisco 49ers (@ BAL)
Minnesota Vikings (@ SEA)
Buffalo Bills (@ DAL)
Miami Dolphins (vs. PHI)
New York Giants (vs. GB)
Atlanta Falcons (vs. NO)
Oakland Raiders (@ KC)
How would you rate this article?